Base building, or CAMP building, in Fallout 76 is very similar to the base building found in Fallout 4. If you've played that game, then you should have little to no trouble setting up your first base in 76.
But don't click off yet. Whether you're a beginner or a veteran, this camp building guide for Fallout 76 has both basic and advanced tips, such as how to build a floating base, so keep reading.
Start With the Basics
Don't set up your first base at the very beginning of the game. It's wise to first acquire some experience, gather some junk and resources, and find the best possible spot for your first base.
Even if you've already found the right spot for your first settlement, you still need to gather resources first. That's why it's important to spend time gathering wood scraps, steel and other junk that might come in handy when building your base.
Once you've done that, you'll want to look for the perfect camp location, which should be level and far from other shelters and buildings (so you can expand later).
Here is a simple step-by-step breakdown on how to set up your first CAMP:
Open Pip-Boy
Choose Put down your CAMP
Go to Floors menu and select the desired foundation type
Set up your foundation
Go to Walls menu and build four walls over your foundation (one of them has to have an opening for a door)
Go to Roofs menu and build a roof over your walls
Go to Doors menu and put a door into the wall with an opening
Of course, this is the most basic camp you can build, but it's one that will keep you (somewhat) protected in the early game. Later on, you will be able to move your CAMP unit and build something much larger and better defended.
Advanced CAMP Building Tips and Tricks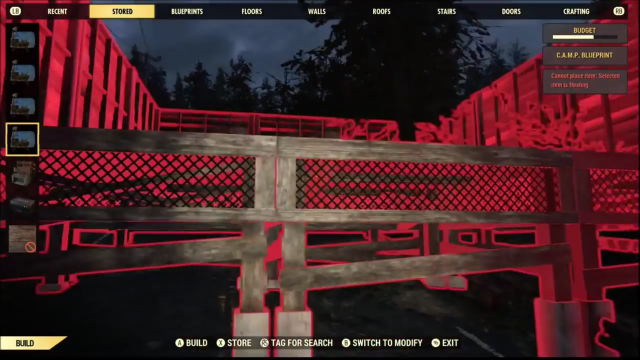 Defend Your Base
You can spend a lot of time and resources when building a brand new base, but there is a big chance that it will be destroyed by other players, not to mention enemy NPCs. Repairing and/or moving costs money.
So defending your base is something you should keep in mind. Here are a few good tips that should help you out:
Find an unknown location for your base, where players don't usually roam
The best place to build a base is inside a cave since it's naturally protected
Build only high-tier turrets to protect your base, as low-tier ones can be easily destroyed
Build a Floating Base
This type of base building makes no sense in the real world, but it's great for Fallout 76.
You can build your base any size and place it on almost any kind of terrain by making it float over the ground. Here's how to do it:
Set up a 1×1 foundation on a patch of land
Build stairs on top of the foundation
Set up the floor over the stairs
Build the rest of your base over the floor
The benefits of building a floating base are huge, as you are not restricted to even types of terrain. It also protects you from raiders and monsters much better than any other type of base in the game.
Blueprint Your Base
There will come a time when you decide to move your camp, but how do you do it?
Fallout 76 allows you to save a blueprint of your entire base and rebuild it in a new location without spending a dime.
Here's how you can save a blueprint of your base:
Open CAMP menu
Press "E" on PC, "Square" on PS4, or "A" on Xbox One
This will activate the Modify mode
Press and hold "E" ("Square", "A")
While holding select your entire base
Press the Save Blueprint option
When you want to retrieve your base, go to the Stored tab in your CAMP menu and select the saved blueprint to reinstall your whole base on a new location.
However, know that the more complex your base, the more likely it is your camp will "disappear". Players have lost their camps after logging out, and the more complex the camp, the more this bug seems to happen.
Sometimes you might load your camp from the Stored menu and find that it's not all there. As of now, there's no way to get back what's lost.
Best Locations for Base Building
Cave Location
If the idea of building a base inside a cave sounds like a good defensive strategy, then consider building a small base inside the cave between Vault 76 and the Mothman Museum.
You can set up a few turrets at the cave's entrance to protect your base. But most likely, you won't have to worry too much since caves are so well protected. Usually, players avoid caves and never expect them to contain entire bases.
Arktos Pharma
The actual building site is located on the hills west of the Arktos Pharma. It provides the perfect view of the surrounding area, and you will have an access to lots of resources both from the Pharma building and the area around it.
This location is relatively unknown, so you will shouldn't be disturbed by random raiders or monsters that would want to destroy your base.
Build a fortress-style base here, as there is enough territory for a wide foundation. This type of base will be hard to destroy because of the entrenched location.
Palace of the Winding Path
This location is great for base building for a few reasons. First of all, it occupies a well-hidden area behind a thick layer of trees that is hard to notice from afar.
Secondly, the ground here is extremely even, where you can build any sort of base you want and of any size. Lastly, the Palace building contains a few important mission items that you simply ought to get as early as possible.
Of course, raiders may still find your base, as this location is quite popular, but you can easily protect yourself using well-placed turrets.
—
With the help of these CAMP building tips and tricks you should be able to get a good base going, and for other Fallout 76 guides at GameSkinny, make sure to visit the links below:
About the author