The Diablo 4 Penitent Greaves is a unique item that you'll want to be on the lookout for, especially the further you get into the game. These boots have chill-based effects that can provide buffs to any class and are well-suited for specific builds. The problem is that they're hard to find. Our Diablo 4 Penitent Greaves guide tells how to get this particular unique item and how to make the most out of it.
How to Get the Penitent Greaves in Diablo 4
Penitent Greaves Location
At the time of this writing, the Diablo 4 Penitent Greaves can only be obtained as a random drop. Since it's a unique item, it has a low chance of dropping once you've reached World Tier 3: Nightmare or World Tier 4: Torment. You can unlock these WTs by completing the Cathedral of Light and Forgotten Temple, respectively.
Moreover, because of RNG, I can't say with 100% certainty if or when you'd find the gear. I suggest tackling content that has high enemy density and guaranteed legendary rewards, which can sometimes turn out to be uniques if you're lucky. Examples include Helltide Portal Invasions or Tortured Gifts of Mysteries. Likewise, you can delve deeper into the best dungeons for XP farming. The ones I've listed in that guide are areas with high mob/elite density. Fingers crossed that luck's on your side.
Penitent Greaves Effects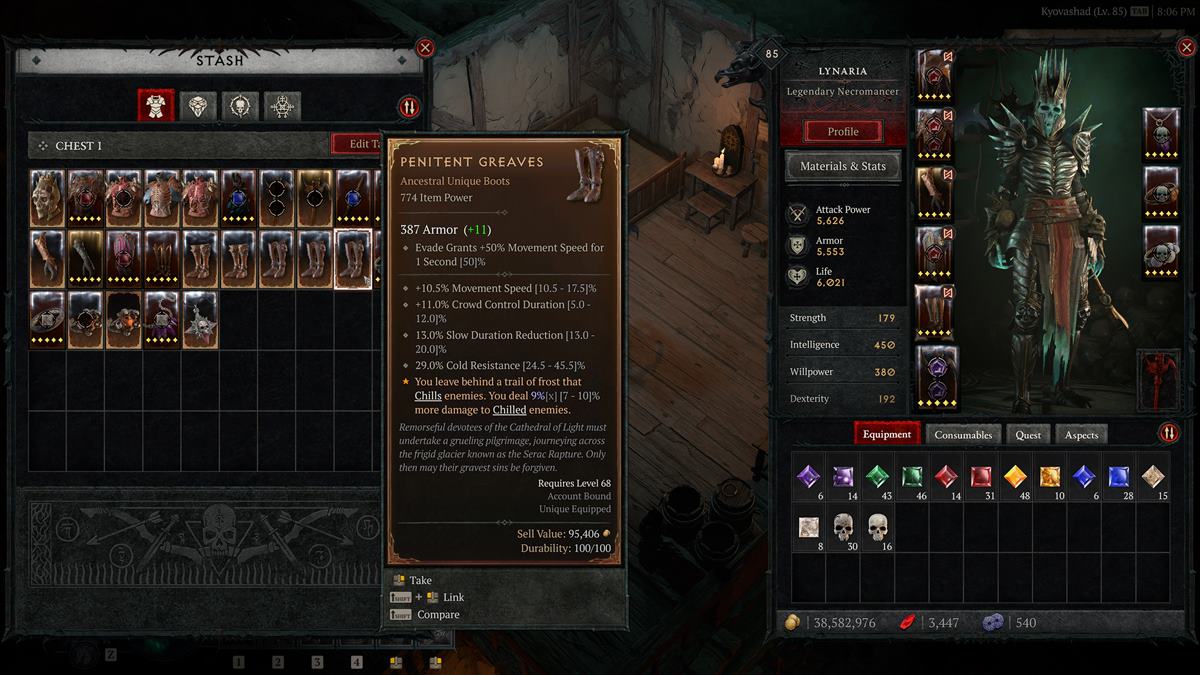 The Diablo 4 Penitent Greaves have the following effects and stat bonuses:
Evade grants +50% movement speed for one second
Increased Movement speed
Increased Crowd control duration
Slow duration reduction
Cold resistance
Unique perk: You leave behind a trail of frost that chills enemies; deal 7 to 10% more damage to chilled enemies.
The Penitent Greaves give a slight boost to your movement speed, which is great for reaching additional packs of enemies. Its unique perk is always active, meaning that enemies you pass through or those that step on the trail of frost will be afflicted with chill effects. You'll automatically deal more damage to them, and they also have a chance of getting frozen if enough chill stacks are applied. This perk is viable for all classes as it's not dependent on a specific skill.
Should You Use the Penitent Greaves in Diablo 4?
While I don't typically use the Penitent Greaves considering I'm a Necromancer main Blight build running Bloodless Scream and Howl From Below, they are worth dabbling with if you're a Frost Sorcerer or a Cold Imbuement Rogue. The former uses spells like Blizzard and Deep Freeze, while the latter has Cold Imbuement and Frigid Finesse.
And that's how to get the Penitent Greaves unique item in Diablo 4. For more tips, walkthroughs, and strategies, our Diablo 4 tips hub has you covered.
About the author