Ready for the return of the Slayer next month? Doom Eternal officially drops for PC, Xbox One, PS4, and Google Stadia on March 20 — which means there's still time to secure your pre-orders and get some pre-order swag.
This sequel to the ultra fast-paced Doom reboot is thankfully ditching microtransactions and will include an unexpected classic title as a free bonus game with all pre-orders.
Let's take a look at what physical and digital editions are available, as well as what extra goodies are up for grabs when you buy Doom Eternal for PC or consoles.
Doom Eternal Pre-Order Bonuses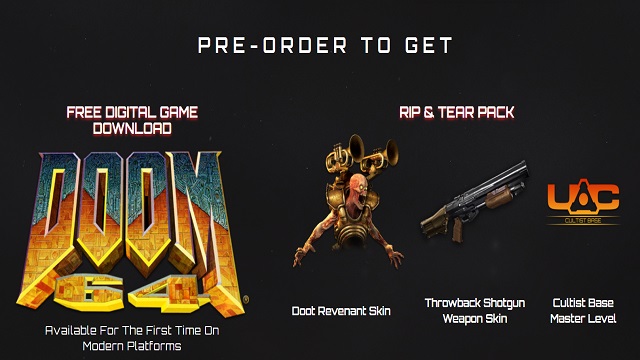 Physical editions of Doom Eternal are available through major retailers, while digital versions of Doom Eternal are up for grabs via console stores, as well as both Steam and the Bethesda.net launcher for PC.
Regardless of platform or edition, all Doom Eternal pre-orders include the free Doom 64 digital download updated to work on modern platforms. This will be the first time the long-lost Doom 64 has seen a legitimate release since hitting the Nintendo 64 back in 1997.
Pre-orders also feature the Rip & Tear bonus pack on PC and console, which includes:
Doom Revenant Skin

Throwback Shotgun Weapon Skin
Cultist Base Master Level
GameStop was previously advertising a collectible tin available for in-store pick up with pre-orders. All such promotional imagery for that deal has now been removed from the pre-order pages, so it appears to be gone. You'll probably have to hit up eBay if you still want to grab one.
Doom Eternal Standard Edition
In addition to the base game, the Standard Edition includes all of the pre-order bonuses above, regardless of which console or PC launcher you use.
Most sites are selling Doom Eternal for the standard price of $59.99, but we've found a few ways to get a better deal. Unfortunately, your options are a bit limited at the moment compared to other major pre-orders.
Right now, only Walmart and Amazon are offering a reduced price for pre-ordering Doom Eternal:
Other retailers are offering the game at full price:
Doom Eternal Deluxe Edition
The upgraded Deluxe Edition is currently $89.99 on all platforms and includes the base Doom Eternal game, all of the Standard Edition pre-order bonuses above, and these extras:
Year-One DLC Pass with two campaign add-ons
Demonic Slayer Skin
Classic Weapon Sound Pack
In essence, you are buying all of the DLC ahead of time by going the Deluxe Edition route. You can pre-order it at these retailers:
Doom Eternal Collector's Edition
Want more physical goodies than the Deluxe Edition offers? The Doom Eternal Collector's Edition is the way to go, although it will set you back $199.99.
This version is only available as a physical copy and is currently only up for grabs through select retailers in very limited quantities:
It is currently out of stock at Target and Walmart.
Aside from the Deluxe Edition content and all of the previous pre-order bonuses, here's what you get with the Collector's Edition:
Deluxe Edition copy of Doom Eternal in an exclusive Steelbook case custom-designed by graphic designer and illustrator Gabz in collaboration with Mondo
A full-sized, wearable Doom Slayer Helmet replica
A playable cassette tape, plus download codes for lossless digital copies of Mick Gordon's Doom (2016) and Doom Eternal original soundtracks
A physical Doom Lore Book with custom artwork by id Software
11" x 17" Lithograph of "The Gift of Argent Power" painting
If you're planning on being the Slayer for Halloween or doing some Doom cosplay, this is clearly the edition to buy.
—
What edition are you planning on picking up, and are you going the PC or console route for this highly-anticipated follow up to the 2016 Doom reboot? Sound off in the comments below.
Want to know what else is in store for the upcoming FPS? Be sure to check out the killer gameplay video showing off Doom Eternal's new weapons mod system, as well as our exclusive 15-minutes of brutal hands-on footage from earlier this year.
About the author