Did you really think a game as big as the annual Call Of Duty blockbuster would hit shelves without a host of problems to mar its arrival and put a bad taste in everyone's mouth? Of course not. There's already a ton of known Infinite Warfare bugs, glitches, and frame rate issues. But lucky for you, we've discovered a handful of workarounds discovered to get you (or keep you) in the fight.
Need even more Infinite Warfare help? Be sure to also check out:
Known Issues
Activision has released a lengthy list of known issues that are currently being worked on, with patches on the way. Most notably, the game frequently crashes and has poor frame rate, split-screen players aren't getting in-game rewards, pre-order content isn't unlocking as it should, and console players are experiencing serious slow downs while in the menu screen.
The good news is that if you got your copy through the Windows 10 store, then most of the crashing and frame rate issues are scheduled to be fixed with the first patch coming next week. (Even if you can't actually use the multiplayer…)
If you're a Steam player on the other hand, all of these issues are still "under investigation" with no resolution date on the horizon, so you'll have to find your own fixes for now.
Possible Fixes
For Steam users having problems, first and foremost always verify the Steam cache. This is a consistent Steam problem where some files aren't downloading properly during the initial installation.
Right-click the Infinite Warfare link in your Steam library and choose Properties, then open the Local Files tab and click Verify Integrity Of Game Cache. If a file is missing or corrupt, this will fix the issue.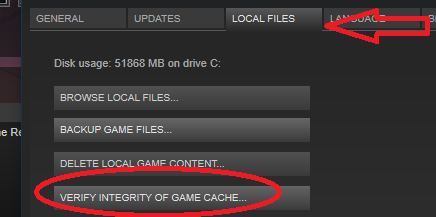 Verifying Steam Cache
Next up, both NVIDIA and AMD just this week released new drivers specifically for Infinite Warfare to resolve frame rate issues. Updating to these newer drivers has been resolving a lot of issues so far. Grab them here:
If these Infinite Warfare troubleshooting tips didn't solve your issue, be sure to report the problem to Activision here and get it on their list of known issues to be resolved in a future patch.
Have you discovered any other workarounds or fixes for these new Call Of Duty bugs? Be sure to let us know what you did!
About the author