The Season 4, Week 6 challenges for Fortnite arrived a few days later than normal after the actual v4.3 content patch was released, leaving the fan base wondering what was up with the new challenges.
After that brief delay, all the Week 6 challenges are now here to test your knowledge of the map and see how well you can find hidden locations while avoiding bloodthirsty players!
This week's big challenge is to find and spray paint seven of the Fortnite Omega posters scattered around the area. There's far more than seven of them that have been discovered so far, so with a little pre-planning, you can probably get all you need in a single match… if you don't get sniped or swallowed by the storm.
Spray painting a Fortnite poster (thanks to Hicko for the screenshot)
Fortnite Week 6 Poster Locations
This one has more of a prerequisite than many other challenges in the past since you need to have unlocked the spray paint emote already by reaching the Season 4 Battle Pass Tier 3 before you can even take part in the challenge.
With that unlocked, you can start tracking down the Carbide and Omega posters plastered on walls inside buildings. Be sure to search around, as sometimes they are in basements or have to be accessed by destroying walls or floors.
When you find one, pull up the emote wheel and select the spray painting option while you are directly facing a poster. It should automatically spray paint over the correct area as long as you are facing the right direction.
As with most challenges, make sure to actually complete the match (by dying or making it to a #1 Victory Royale) for the challenge to be ticked off your list. If you don't get them all before being gunned down, they will go towards your total of seven and can be finished in a later match.
Here's all the Fortnite poster locations that have been uncovered by the player base so far:
Inside the large house at the center of Loot Lake (landing directly here and then heading either in a clockwise pattern east or a counter-clockwise pattern south lets you hit most of the posters before being herded into the middle of the map)

Inside the main building of Junk Junction
Between two doors in the tunnel south of Tomato Town
At the exact same site as the disco dancing challenge in the Haunted House southwest of Pleasant Park

On the first floor of the house at the top of the mountain near Snobby Shores
Underneath the stairway at the southeast edge of the Tilted Towers area
At the bridge south of Shifty Shafts, head to the bottom of the stairs at the west side
Near a dumpster at the southwest side of Retail Row
Inside the destroyed prison at the far east end of Moisty Mire
In the building between Junk Junction and Anarchy Acres
In the area north of Salty Springs and southwest of Dusty Divot
At the area west of Dusty Divot and east of Tilted Towers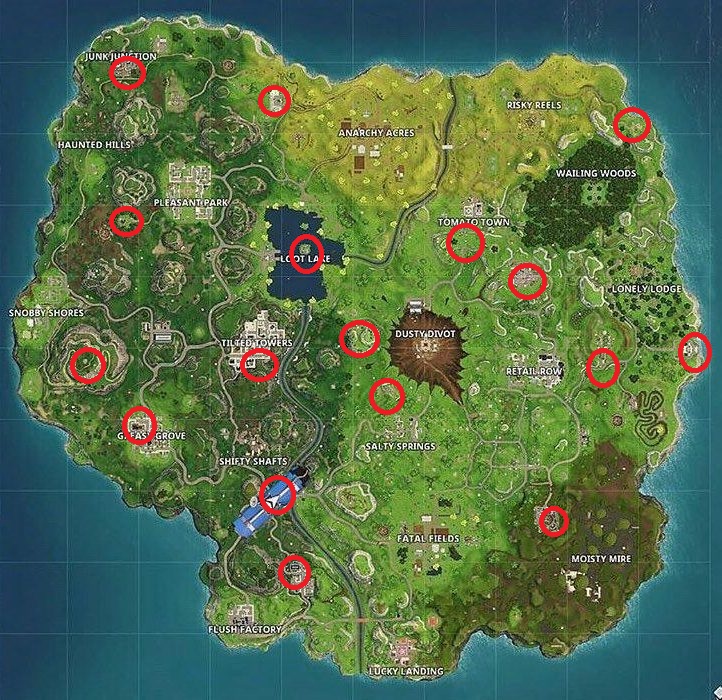 All Poster Locations in Fortnite
This is just one of the quests currently available, with these Season 4, Week 6 challenges now up for grabs:
Search Supply Drops (3)

Deal damage with Shotguns to opponents (1000)
Search Chests in Loot Lake (7)
Spray over different Carbide or Omega Posters (7)
Search between a Playground, Campsite, and a Footprint (1) (HARD)
SMG Eliminations (3) (HARD)
Eliminate opponents in Retail Row (3) (HARD)
Still need help with some of the other challenges? Check out our recent Fortnite guides here at GameSkinny below:
About the author