Kingdom Come: Deliverance boasts a vast world with rich characters and hours of gameplay for you to sink your teeth into. While exploring Neuhof region, you will stumble across an older woman, down on her luck, who needs a favor from such a young, chivalrous fellow as the main character. A Woman Scorned is a short series of quests that will reward you much more than you bargained for once completed.
The first task the woman will ask of you requires the retrieval of 20 Groschen from the man who made use of the old woman's services the previous night, only to skip out on the bill in the morning.
Tip: His location will be indicated on your map, but if you have too many side quests active simultaneously, it will not appear until you complete one or more of them.
The woman will ask you to then steal back a woolen shawl she sold to a villager in exchange for some food. If you decide to try and swipe it while the woman is asleep, take caution of her husband just next to her, who can easily awake and catch you red-handed. You can also try luring one or both out of the house and knocking them unconscious, as the woman will have the shawl on her person.
The trunk the old woman tells you about is just next to the village woman's cot, so don't forget to rifle through it before you leave. The old woman will then need her ornamental dagger stolen back from her ex-husband, the farmer. After returning the dagger, the final item she'll ask for is the key to the trunk where her wedding dowry is kept.
Tip: Following your markers and your compass should lead you to these items relatively easily, so you might want to try completing side quests of other types simultaneously to avoid unnecessary backtracking. For example, quests in which hunting is central would be ideal, as you'll be passing through a lot of hunting ground as you travel to gather the old woman's affects.
Once you have the key and return it to the old woman, she will tell you to return to meet her in a day's time so she can reward you.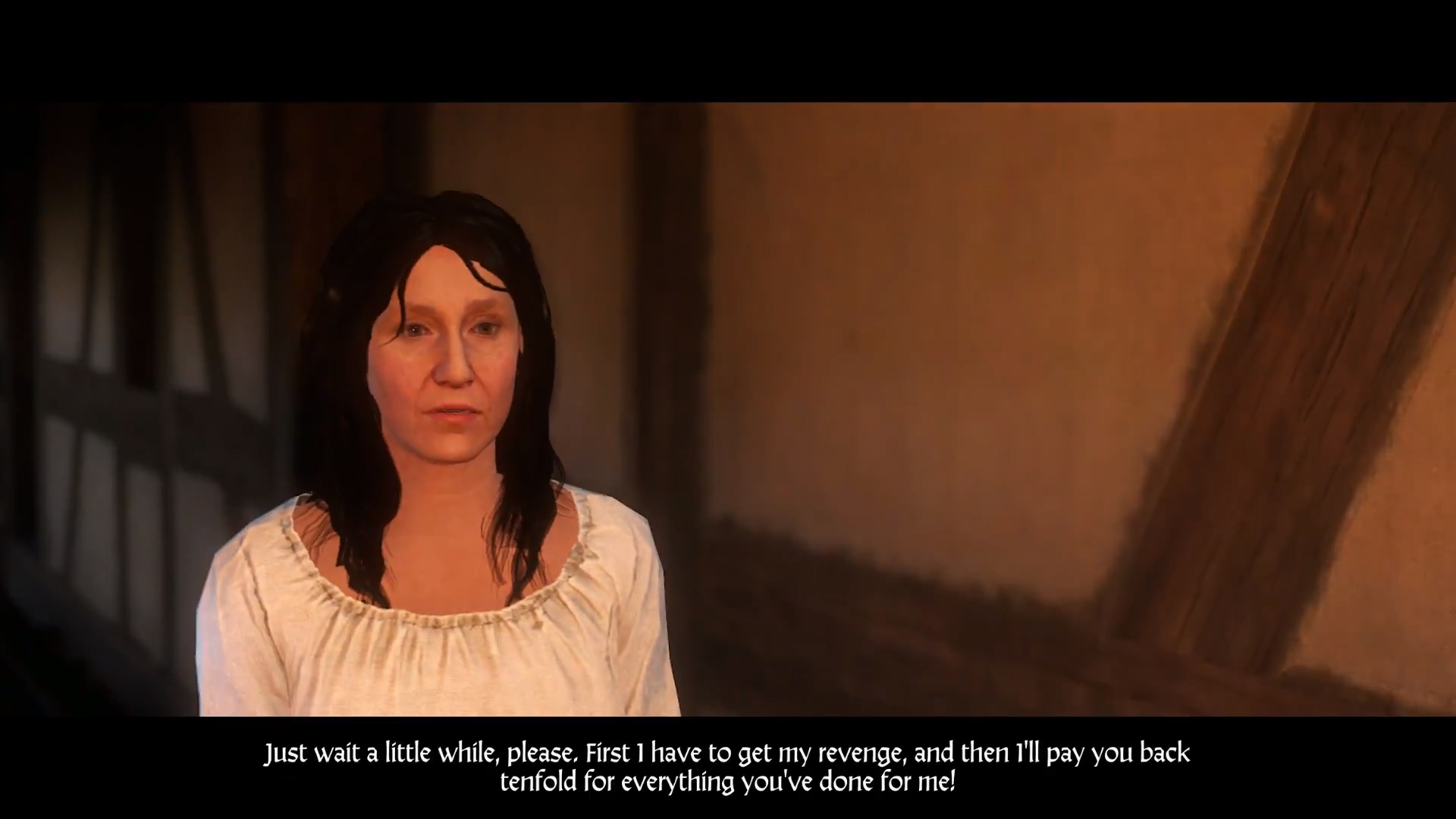 Tip: Don't try to pickpocket the old woman out of last-minute regret; the woman will do as she has planned all along, and you will only end up with a bug where the pickpocketed quest items end up stuck in your inventory forever.
If you return to meet the old woman the next day and cannot find her in town, go and speak to the Innkeeper, Andrew, to complete the quest and discover the result of your actions.
—
For more on Kingdom Come: Deliverance, check out some of our other guides here:
About the author