Sometimes, a free trial of a game just doesn't last long enough to really gauge whether you want to throw some money down on the full title. This can make it a bit tricky to really sell your friends on a game you like, though if you could somehow gift them an extended trial, this could make convincing them so much easier. Luckily, Rainbow Six Extraction's Buddy Pass allows players to do exactly this.
How to Use the Buddy Pass in Rainbow Six Extraction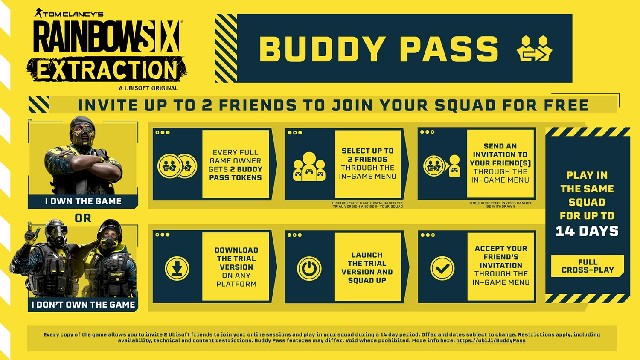 The Rainbow Six Extraction Buddy Pass allows players who own the full game to invite two of their Ubisoft friends who don't own the game to join their squad and play for free for two full weeks. This offers a great opportunity for those considering to buy the game to see if it's something they'd be happy to spend their money on.
Every owner of the game will have two Buddy Pass Tokens, which they can send to anybody on their in-game Ubisoft friends list. By sending a token to a friend, they can accept it as an invitation to join your squad and play.
How to Invite Friends
From the main menu of Rainbow Six Extraction, open up your in-game friends list and scroll through to find the one or two friends you'd like to bring into your squad. Once you find them, click on them and choose to send them a Buddy Pass Token.
Be very careful to not send it to the wrong person, as you will only ever get two tokens, and once redeemed, they cannot be withdrawn. This is all that you need to do in order to invite your friends. The rest of the process is in their hands.
How to Accept Buddy Pass Invites
In order to accept a Buddy Pass invite from your friend, you will need to download the trial version of the game, and you can do so on any platform of your choosing. If you are playing on either Xbox or PlayStation, then you will still require either Xbox Live Gold or PlayStation Plus in order to play online.
From the main menu, choose to squad up and you will have the option to accept your Buddy Pass Token. By doing so, you will be able to squad up with your friend. If you play alone at all during the 14-day trial, that will count towards your two hours the free trial gives you.
The trial version of Rainbow Six Extraction allows players to try the game out for two hours, however if they accept a Buddy Pass Token, that two-hour timer will be paused, so long as they're playing with their friend. If you play solo, then that timer will count down. If you use up those two hours, you can still play with your friend in their squad for the full two weeks, though you will not be able to do any more solo play.
Any progress you make during your two weeks, you will maintain if you decided to purchase the full game, so don't worry about losing your stats, trophies or achievements, or anything you've unlocked in the game.
That is everything you should need to know about Rainbow Six Extraction's Buddy Pass system. If you're interested in learning more about this game, then consider checking out our other Rainbow Six Extraction guides!
About the author