Remnant 2 has many secrets that won't be apparent until time passes by. One of these is the Thaen Seed, which seems like a curious-looking item — until you realize that it yields a powerful consumable. Our guide discusses what to do with the Thaen Seed in Remnant 2, as well as how you can plant and make it grow.
What to Do With the Thaen Seed in Remnant 2
The Remnant 2 Thaen Seed can be planted in a plot of land in the small farm area in Ward 13. But there are a few facets to remember:
Dynamic campaign progression — The Thaen Seed can be acquired in Yaesha. Specifically, you need to start the main quest in the Red Throne. If you did not arrive in that area, then I suggest doing an Adventure Mode run.
Missing out on potential rewards — The item can be yours if you open the Ornate Lockbox. But you need to keep it if you want to plant it in Ward 13.
How to Get the Thaen Seed
As mentioned above, the Thaen Seed comes from Yaesha. Here are the steps:
During your first meeting with the Eternal Empress and the Attendant, choose respectful replies and avoid anything that leads to combat.
The goal is to reach the Widow's Court dungeon so you can look for the Tarnished Key and Ornate Key.
You can decide whether or not you'll open the Ornate Box. For the purposes of this guide, you should definitely open it.
You need to defeat the Corruptor boss.
Return to the Eternal Empress to receive your reward. However, you must not give her the Thaen Seed in your dialogue responses. If you hand it over, you'll only obtain the Burden of the Rebel, a terrible ring.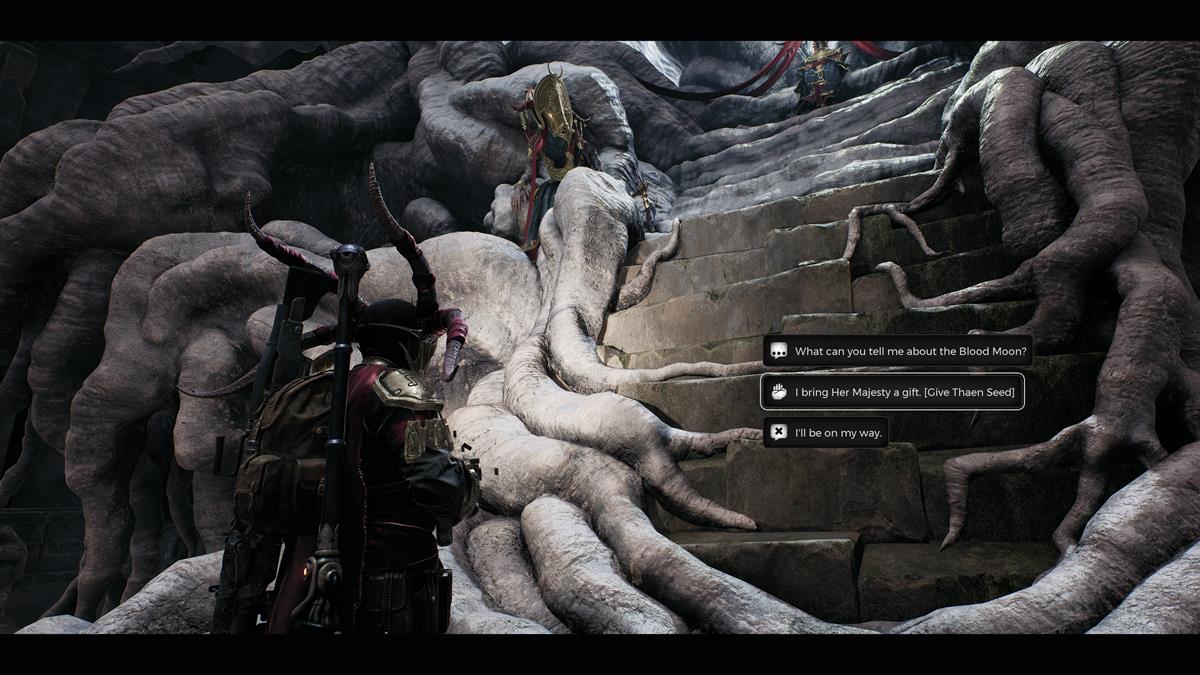 Where to Plant the Thaen Seed
Since you kept the Remnant 2 Thaen Seed, you'll be able to plant it in Ward 13. Check out the farming area near the entrance, and look for a plot of land that you can interact with. Select the Thaen Seed from the menu.
Important: If you're doing this during your Adventure Mode run, I'd suggest planting the Thaen Seed in that world. Don't accidentally reroll without planting it first since you'll lose all quest items. The good news is that once you've done that, it will continue to grow even in your main campaign. That means you can safely reroll Adventure Mode for other loot.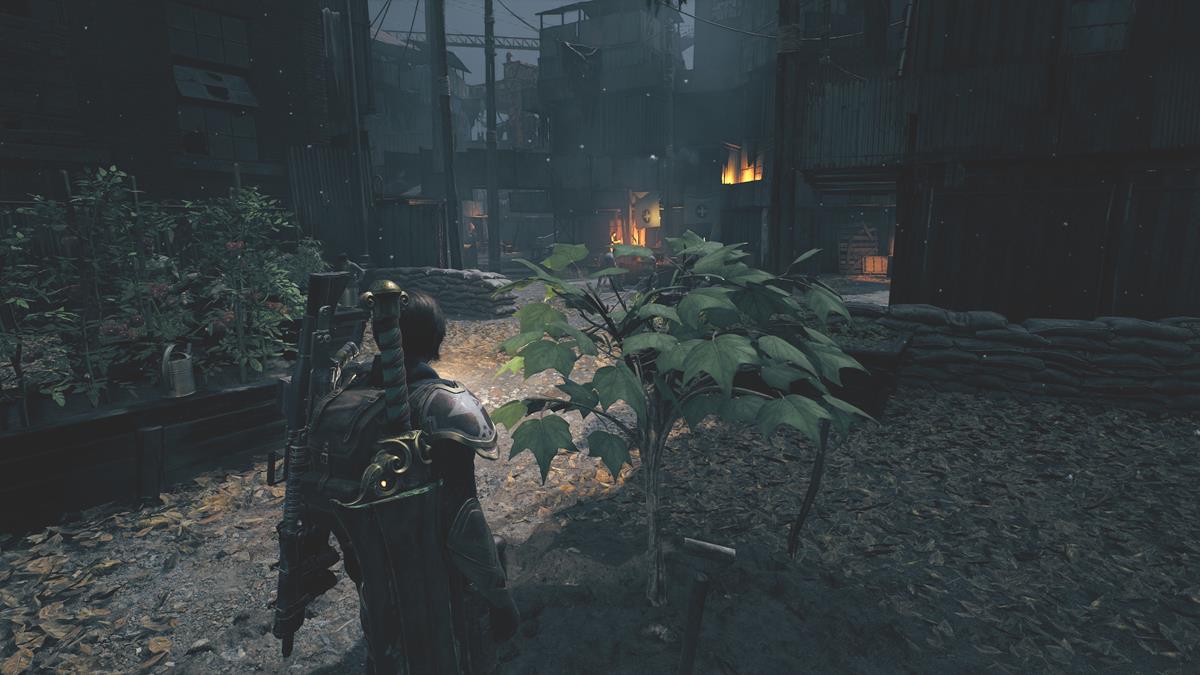 How to Obtain the Thaen Fruit Consumables
Surprisingly enough, you've got another decision to make when it comes to the Remnant 2 Thaen Seed: when do you pick the fruit from the tree?
The answer is: many hours later. That's because it takes several hours in real-time for the tree to fully grow. In my experience, it took roughly three hours until I saw a glowing green icon. But that only rewarded a "weaker" consumable. For the "upgraded" variants, you may need to wait until a day or so has passed.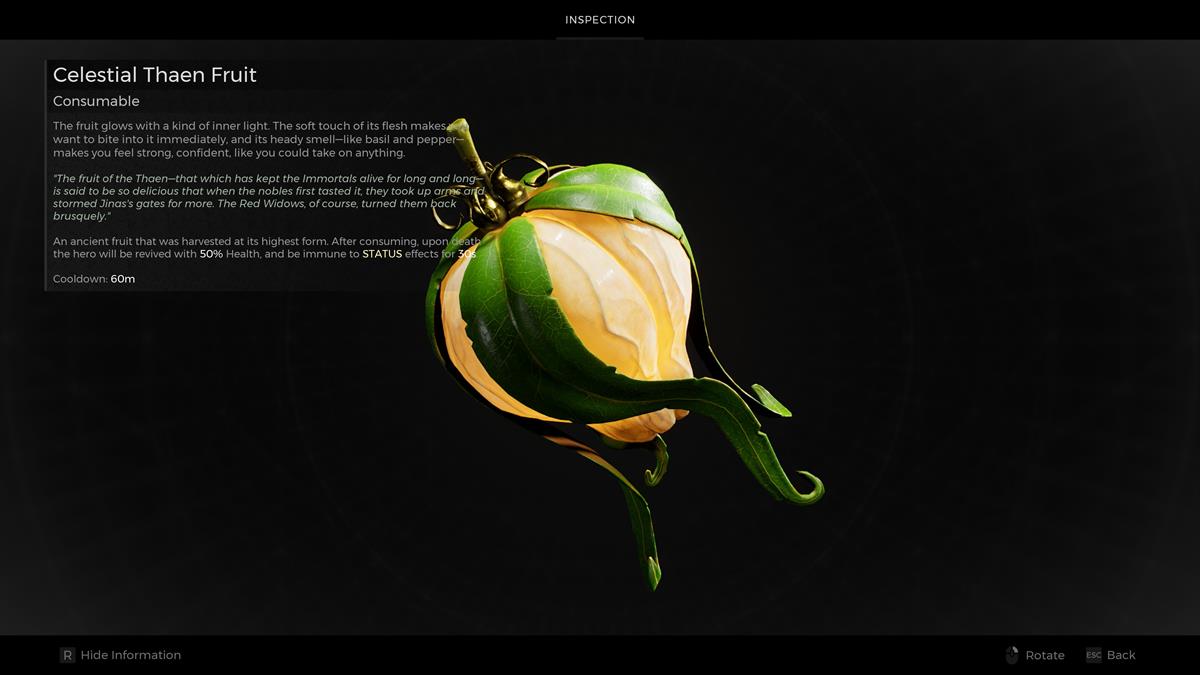 Here are the potential rewards:
Mature Thaen Fruit — After consuming upon death, the hero will be revived with 30% HP, and be immune to status effects for 30 seconds.
Elder Thaen Fruit — You'll be revived with 40% HP and be immune to status effects for 30 seconds.
Celestial Thaen Fruit — You'll be revived with 50% HP and be immune to status effects for 30 seconds.
And that's what to do with the Thaen Seed in Remnant 2. It's well worth going after since it nets you a useful item that grants an automatic revive. For other tips and strategies for bosses, Archetypes, and weapons, head over to our R2 guides hub.
About the author