As expected, there are tons of missions to undertake in Bethesda's massive galaxy. Some are easier to finish than others, but even early on, there's an important one that can be a bit perplexing. Wrapping it up is important because it makes more missions from the Constellation group available. Here's how to complete The Old Neighborhood in Starfield.
How to Complete The Old Neighborhood Quest in Starfield
The Starfield Old Neighborhood quest can be started as soon as you reach The Lodge in New Atlantis, where you join Constellation. This intrepid band of explorers aims to search for the artifacts, leading them into the vastness of space. Talk to their leader, Sarah Morgan, to begin the quest. This also makes her a mandatory companion until you complete the objectives.
The Old Neighborhood Quest Walkthrough
The Old Neighborhood quest in Starfield has you searching for Sarah's contact, a man named Moara. Here's a quick summary of how to find Moara:
Go to the United Colonies headquarters in the MAST District and talk to commander Tuala. He gives you a clue as to Moara's last known location.

I also suggest talking to Tuala about joining the United Colonies Vanguard (UCV). This faction has its own quest separate from the main missions. You can do them at any time, but they're worth completing for credits and items. One of the best early-game pistols is a reward for joining the group).

Moara was last seen in Cydonia, a large settlement on Mars. Make your way there and talk to the bartender.
Related: How to Make Money Fast in Starfield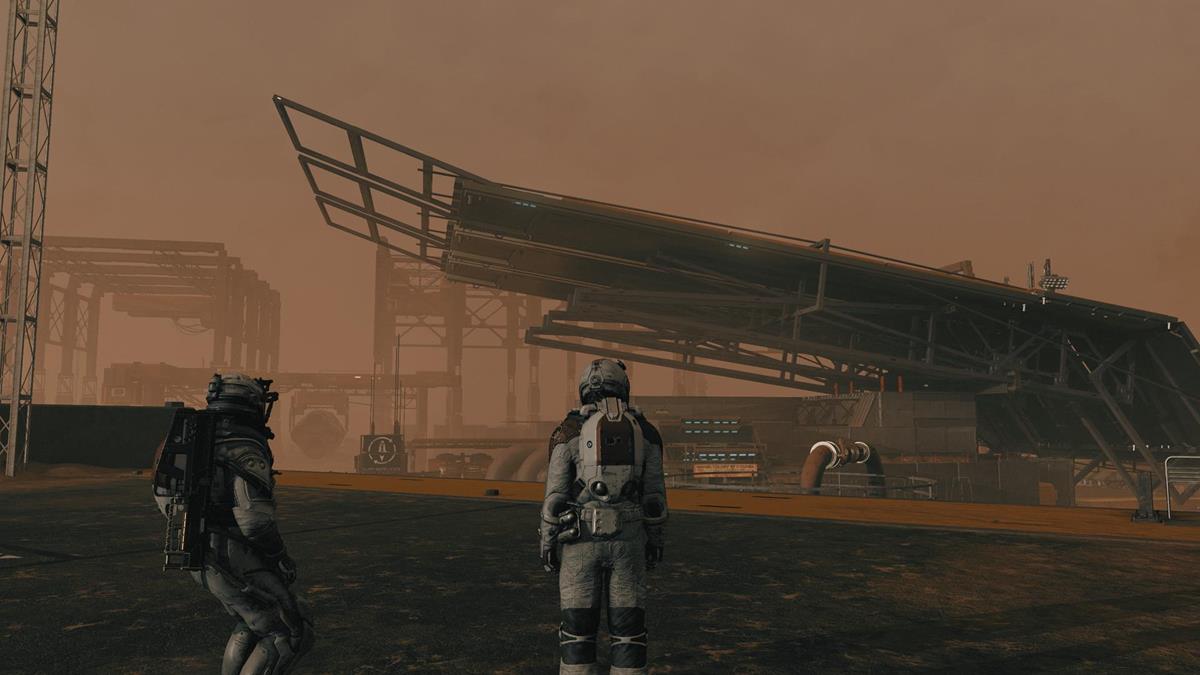 Nova Derelict Shipyard
The next clue for The Old Neighborhood quest in Starfield leads to the Nova Derelict Shipyard, which orbits Luna (i.e. Earth's moon). Here's what you need to do:
Approach the star station and get within 500 meters. Target it and hold the button prompt to dock.
Inside, you'll have to fight numerous Spacer enemies. However, they've also got some nice loot. In my case, I even found a couple of epics and legendaries from a chest.
Moreover, some Spacers might drop the Mantis Dataslate. You might not give it a second thought, but I advise you to take note of it for later. That's because this particular side quest leads to the Mantis legendary ship.
As for the main quest itself, explore the facility until you find Moara's Dataslate. Read it, and you'll learn of his ship's location.
Related: How to Get the Mantis Spacesuit in Starfield
Travel to the location and dock with Moara's ship. Inside, you'll have to eliminate more hostiles.
Check in on Moara to see if he's okay. For dialogue responses, pick those that praise Constellation so you can earn approval from Sarah. After the conversation, pick up the artifact next to the pilot seat. When you're done, return to The Lodge to complete the quest.
That's everything you need to know about how to complete The Old Neighborhood in Starfield. Past this point, three more missions appear in your quest log: Back to Vectera, The Empty Nest, and Into the Unknown. For more tips and strategies, you can visit our guides hub.
About the author