Dumb Ways to Die 2 - How to Beat the Minigames and Get a Higher Score
Aiming for that high score in Dumb Ways to Die 2? Maybe I can help!
I fell in love with Dumb Ways to Die, so of course I'm all over Dumb Ways to Die 2: The Games. Any fan would be, and there's a lot more to do here than in the first game.
There are currently three areas on the map where you can play separate sets of minigames, and one area (called 'Dumbest of the Dumb') has random minigames where you can unlock new characters for the map and more.
You will also stop at a train station each time you switch areas, which will put you to the test with a short minigame and give bonus Safety Points.
As with the first game, the minigames will get tougher the longer your streak is. Things start out slow and easy, but quickly ramp up to become more difficult to manage.
In this guide I will lay out how to play the minigames in Dumb Ways to Die 2 which will hopefully help you get higher scores. There are some surprising ways to approach the minigames, and you don't even have to cheat.
Freezerville
Don't Lick the Pole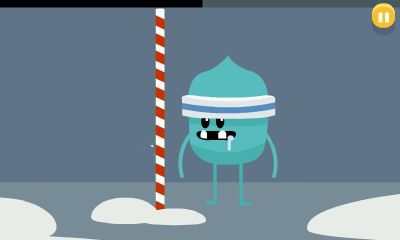 This is the simplest minigame of them all: Just don't touch the screen! I consider this one to be free points if it comes up.
Rocket Ski Jump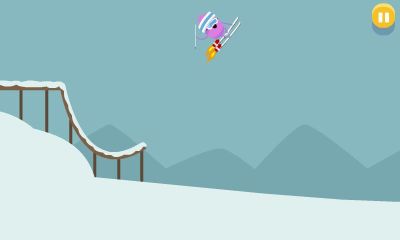 You must trace the yellow bubbles in this minigame to send the skier in the right, safe route mid-air. The bubbles must be touched in order, so if you miss even one as you're tracing along the route you will probably not be able to recover.
There are no tricks to this one, but the route you must trace becomes more complicated the further into a run you are. The time limit becomes harder to deal with later on as well.
Penguin Ice Hockey
There is one big thing to bear in mind with this one: You do not have to tap enough to make the bar fill. As long as it is above 50% when the time runs out, you will still win the slap fight.
Some people choose to use multiple fingers for this and other frantic tapping minigames. Instead, I put the phone on my lap or a table and use one finger. I put my finger on the screen, then move my wrist or hand up and down rapidly to tap. This has proven to be very effective for me, and may be for you too!
Yeti Grooming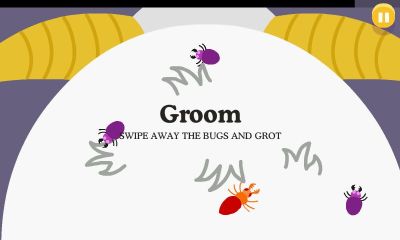 This one can get to be problematic the higher your score has gotten to be, often by just having too much to pick off that dumb yeti!
I use a two-thumb approach to this game to quickly flick off bugs and debris on each side of him without skipping a beat. If you've been using just one finger and having trouble, try using two!
Patchy Ice Figure Skating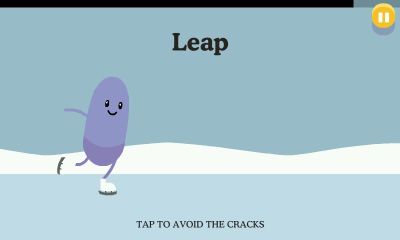 In my opinion, this is the most difficult jumping minigame in Dumb Ways to Die 2. The window to jump is very short.
You generally want to jump right before you reach the ice, especially when it's slow. Do not jump until the character's skate is just about to touch the crack in the ice -- one moment too late or too soon, and you will fall.
Once things get very fast, the game will begin throwing cracks in near the end of the timer. Be on your guard!
Avalanche Chalet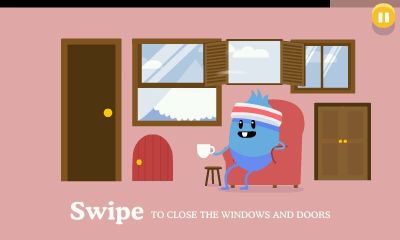 Your task here is simply to close the doors and windows so this poor fellow doesn't get crushed in the snow.
This minigame seems fairly straightforward, but did you know you can just tap the doors and windows to close them? That's right! You do not have to swipe to close them! I use two thumbs to do it quickly and easily, every time.
Off Piste Slalom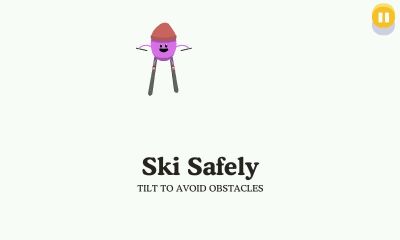 There are a few minigames where you need to tilt your phone -- and luckily this is the easiest to control.
Unlike the other two tilting games, this one is easy to control but difficult to predict. Try avoiding the left and right edges to make it easier to dodge. Later on, there will be multiple obstacles right next to each other that can be a pain.
Landmine Curling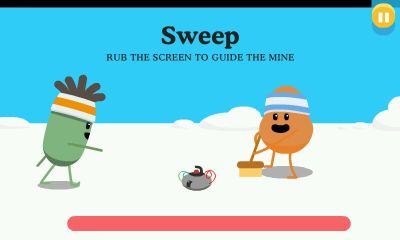 Here's all you need to know: Rub left to right instead of up and down!
This minigame is fairly easy early on, but can be terrible once things get fast. Try rapidly rubbing all the way from one side of the screen to the other to make things easier.
Dumb Dome
Javelin Catch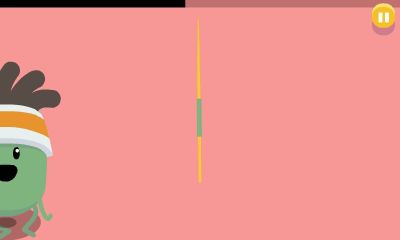 This one is super easy if you haven't muted the sound on your phone. Once you hear a javelin coming down, just tap to move.
If you have your phone muted, you'll have to approach things a little differently: Watch the character's shadow. Once you see a darker shadow growing underneath, tap to move out of the way.
Shoelace Tie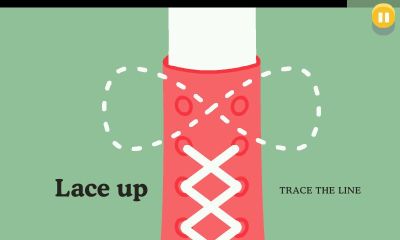 This minigame is probably my least favorite, and it may be yours too if you don't have a steady hand. All you have to do is follow the dotted line, but you must cover it completely. This one takes some practice.
Running with Scissors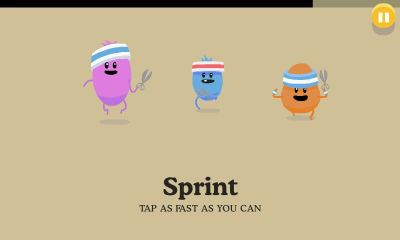 As with Penguin Ice Hockey, you need to tap fast to win this one. Your only goal is to get your character to the finish line -- the other two are just there for decoration.
Figure out whether using two thumbs or a single finger (with the phone on a table or being held tight) works best for you.
Electric Fence Hurdles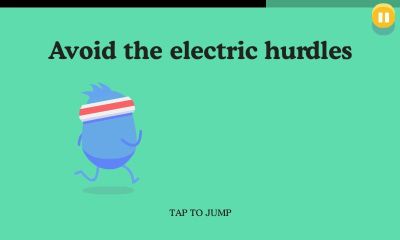 This might be the easiest jumping minigame in Dumb Ways to Die 2, but I can't decide.
You have much more room for error in this one, in comparison to Patchy Ice Figure Skating. Your character stays up in the air for much longer, often to your benefit.
3 Tonne Clean and Jerk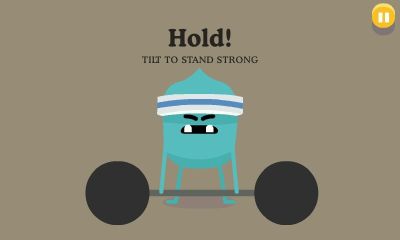 The sensitivity for this tilting minigame is pretty high. Only tilt slightly one way or the other with this one, otherwise his arms will give way and you will lose.
Lightning Pole Vault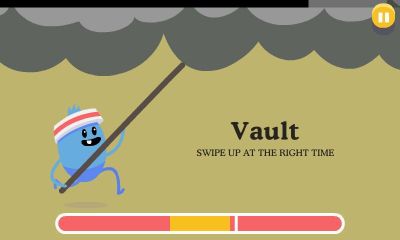 The goal of this game is to swipe as the white line reaches the yellowish area on the bar at the bottom of the screen.
You need to take into consideration the direction the bar is moving, how fast it is moving, and how quickly you can swipe to clear this minigame consistently. Often you will have to swipe just as the white bar is getting close to the yellow area, instead of swiping while it is in the yellow area.
Dynamite Relay Race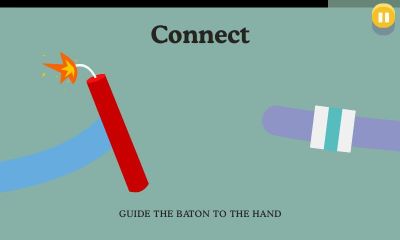 There isn't much of a trick here, except that dragging it to their arm will not work. Just aim for the hand and you'll be fine.
This one can catch you off guard when things are going really fast. Just keep a steady hand and don't overshoot!
Hammer Throw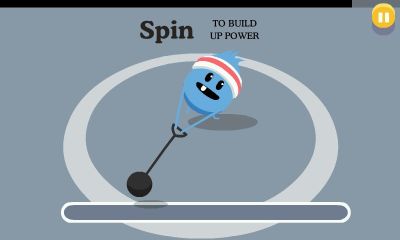 If you find yourself having trouble clearing this one while swiping in circles, try doing so in a long oval from the left to the right sides of your screen. It may just work better for you!
Drown Town
Shark Jumping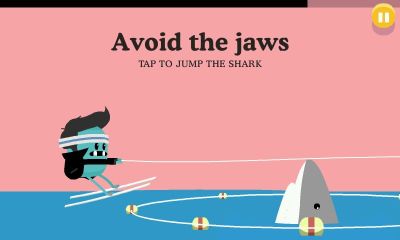 Thankfully there is a good amount of wriggle room for this minigame (again, unlike Patchy Ice Figure Skating). As long as you tap before your character reaches the rope surrounding the shark, you'll be fine.
You spend more time in the air in this one than anticipating a jump, which is nice. Is this one or Electric Fence Hurdles easier? I just can't decide.
Depth Charge Free Diving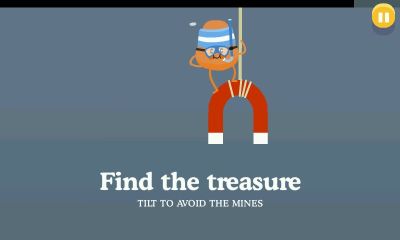 This tilting minigame is very sensitive, and it can be really tough to stop going one direction to go in another. Tilt very slowly.
Try to stay near the center of the screen and avoid the sides if at all possible. You must keep your cool during this minigame because of how sensitive the tilting is!
It is also worth noting a mine can clip the top of your character's head and you will still be fine. Keep this in mind when things get difficult.
Dolphin Rodeo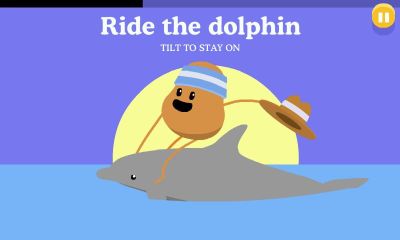 I'm just going to say it: This one is unpleasant and I don't like it. Dolphin Rodeo's tilting is almost as sensitive as 3 Tonne Clean and Jerk, but it throws you a curveball in the form of a constantly-moving dolphin.
Once the dolphin starts to tilt one way, gently tilt in the opposite direction. If you tilt even a bit too far and do not react fast enough, the dolphin will knock you off. This one takes some practice!
Killer Whale Dentistry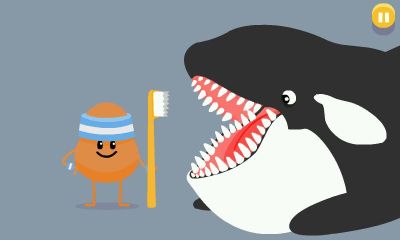 There are four ways for you to approach this minigame:
Swipe left and right across the whale's whole mouth
Do small, fast left and right swipes on just a few teeth at a time, moving in gradual circle around its mouth
Swipe in large circles covering all of the whale's teeth
Swipe in tiny circles doing just a few teeth at a time, moving in a gradual circle around its mouth
Personally I do option 4, but you should test them to find the one best for you.
High Dive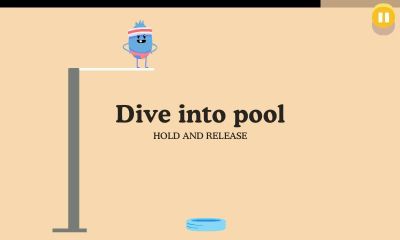 Easy! All you have to do is press your finger to the screen and release when the dotted line is above the pool.
The dotted line moves faster the further along you are, but this is still one of the easier minigames.
Running Beside the Pool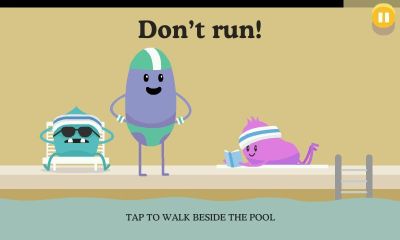 The trick to this one is to tap once your character's foot has touched the floor. Do pay attention to how he walks, as one leg travels further than the other.
At higher speeds, you can't rely on timing as much as you can looking at his feet. Watch the feet and tap only once his foot as touched the floor, not a moment sooner.
Dumb Life Saving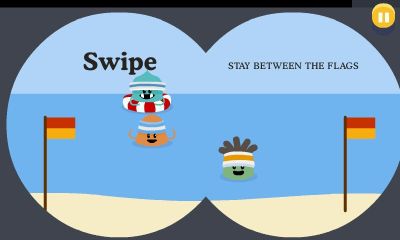 I've found this gets much more difficult if all three characters are on the same side. They also travel further the further you swipe.
I try to push them from the edge almost all the way to the other side, then back again. I do this with each one until this minigame has ended to avoid one of them floating away.
This one is most easily done with two thumbs, so you can push them from either side.
100m Piranha Freestyle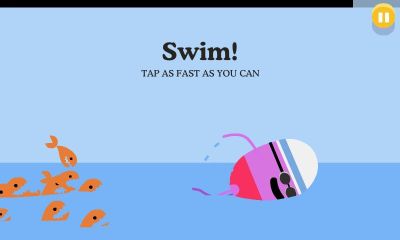 I've found this to be the most difficult pure tapping minigame in Dumb Ways to Die 2, just because the piranhas do go faster up as the game speeds up.
There isn't much to say about this one, but try both the one-finger and two-thumb tapping methods to figure out which one works best with your reflexes.
That's the last of the primary minigames to be found in Dumb Ways to Die 2 for now. Hopefully these hints have helped you, and here's to hoping Adrenaland is opened soon!
Published Oct. 27th 2016