How to Get FFXIV 5.1's New Nier Raid Gear and What It Looks Like
Final Fantasy XIV's new Nier crossover raid is finally here, and we've got some rough previews of all the new raid gear and where to get it!
Looking to take a sneak peak that new Final Fantasy XIV Nier raid gear? We've got you covered.
One Reddit User managed to get ahead of the curve and throw up some renders of the new gear in question, and we're more than happy to throw that up here and show you how to find it. First, how to get these beauties.
Obtaining the NieR Raid Gear in FFXIV
In order to obtain any of these and potentially deck your character out as 2B as can be, you'll have to have to:
Complete the Shadowbringers main story quest if you haven't already
Complete the quest "Word about Komra"
Head over to Kholusia and have a chat with our not-so-new friends, the Dwarves
Find one Gossipy Dwarf at coordinates (X:12.9 Y:8.7), who should offer you the first Quest in the chain: "A Scandal in Komra"
Completing the Quest Chain from there will unlock the new FFXIV Nier raid, YoRHa: Dark Apocalypse. The gear drops in the YoRHA raid.
Anyway, let's take a look at the full array of items you can get from this raid and slap into some glamours.
Previews:
Obviously, these are all inspired by Nier: Automata, and some seem to be variations of the same piece, which isn't uncommon for FFXIV's gear designs. Notably there are once again distinctly male and female gear versions, again, not uncommon in the game's design.
If I had to guess, I'd say the first and third images are healing and casting gear for males. Everything else is up in the air and beyond me at the moment, but we're working to keep you updated all today.
Worth noting especially is that a glamour set from the Raid, which gives you 2B's outfit, will also enhance your character's 'assets'. Seen below is the same character from a certain angle while wearing the gear in question.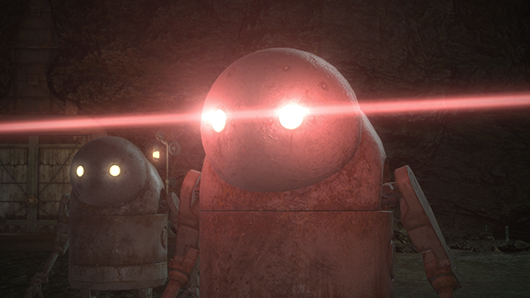 -----
Check out our other FFXIV Guides, or maybe look back on some Nier: Automata!
Published Oct. 29th 2019