Injustice (Mobile) - Red Son Lantern Challenge Mode
Take the powered ring fight to those commies with a Red Son Green Lantern!
(UPDATE: The Red Son Lantern Challenge Mode is repeating from January 22nd to Febuary 7th. All of the Challenges are identical as this original article from October.)
Hot on the heels of the Ares PvP Challenge for Injustice: Gods Among Us, the game's Red Son faction gets a new member in form of Red Son Green Lantern.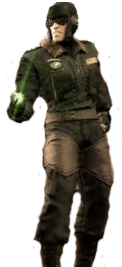 This alternate universe version is from a world where the Justice League was never created and Superman crash-landed in Russia, where he was raised to serve the Communist Party.
As with all other Red Son characters, this Green Lantern's passive power gives boosts to other Red Son teammates. Other Red Son's take 20% less damage from Special Attacks AND they are immune to STUN and CRITICAL damage.
In Brightest Day, In Darkest Night
You will have 18 days to complete the challenge and you start with 25 Challenge Credits to pay for each battle. You will need to buy more in the Shop or earn them by playing regular battles to finish all five series of challenges.
For each set of battles completed, you get a part of Red Son Lantern's gear (Helmet, Brick Wall, Gloves, Gatling Gun, Boots) Once you have won all five challenges, a Gold Level Red Son Lantern is added to your collection.
But, you don't need to complete them all to win something.
2 Challenges Completed - Free Bronze Booster Pack (worth 8,000 credits)
3 Challenges Completed - +15,000 Power Credits
4 Challenges Completed - Free Silver Booster Pack (worth 35,000 credits)
Once the Standard Challenge is completed, players can then try the Expert level version and up to Nightmare level.
No Evil Shall Escape My Sight
Here are my own suggestions:
Challenge 1: Bronze Characters Only - As always, I put Nightwing up front to deflect and drain, then Deathstroke to take'em out with Full Auto.
Challenge 2: Lex Luthor Must Be On Your Team - I'm not a huge fan of Lex, but his main strength is energy drain. Back him up with someone with a powerful 2nd attack that builds up while he keeps them held down.
Challenge 3: Bronze or Silver Characters Only - Silver Nightwing has good passive and his Kali Fury is brutal. Silver Cyborg's 2nd attack is also devastating. And Knightfall Bane's Thundering Dropkick is a fave.
Challenge 4: Joker Must Be On Your Team - With the Killing Joke Joker, you could have an entire team of laughing clowns.
Challenge 5: Catwoman Must Be On Your Team - Of course Batman Return's Catwoman is your best Gold bet, but the Silver Catwoman's Cat Scratch attack shouldn't be underrated.
Green Lantern's Light!
Colonel Hal Jordan leads the U.S. marine forces as part of Code Name: Green Light. It was a contingent of marines using power rings to try and contain or destroy Red Son Superman.
Unfortunately, their efforts were in vain. As Superman put it, they were using a weapon based on thought against a being who could move faster than thought.
Published Jan. 22nd 2015