The American Nightmare, Cody Rhodes, is a playable wrestler in AEW: Fight Forever. Kickstarting the promotion alongside his friends, the grandson of a plumber has since made his return to WWE. However, you can still unlock him here. Here's what you need to know and how to use his moveset.
How to Unlock Cody Rhodes in AEW: Fight Forever
To unlock Cody Rhodes in AEW: Fight Forever, all you need to do is purchase him from the Shop menu for 10,000 credits. This is actually one of the easiest objectives in the game since earning credits is fairly straightforward. For instance, winning matches should net you anywhere from 3,000 to 5,000 cash. You can also earn more depending on the star rating of each match.
As an aside, there are also daily, weekly, normal, and secret challenges that you can complete. These will also add to your total.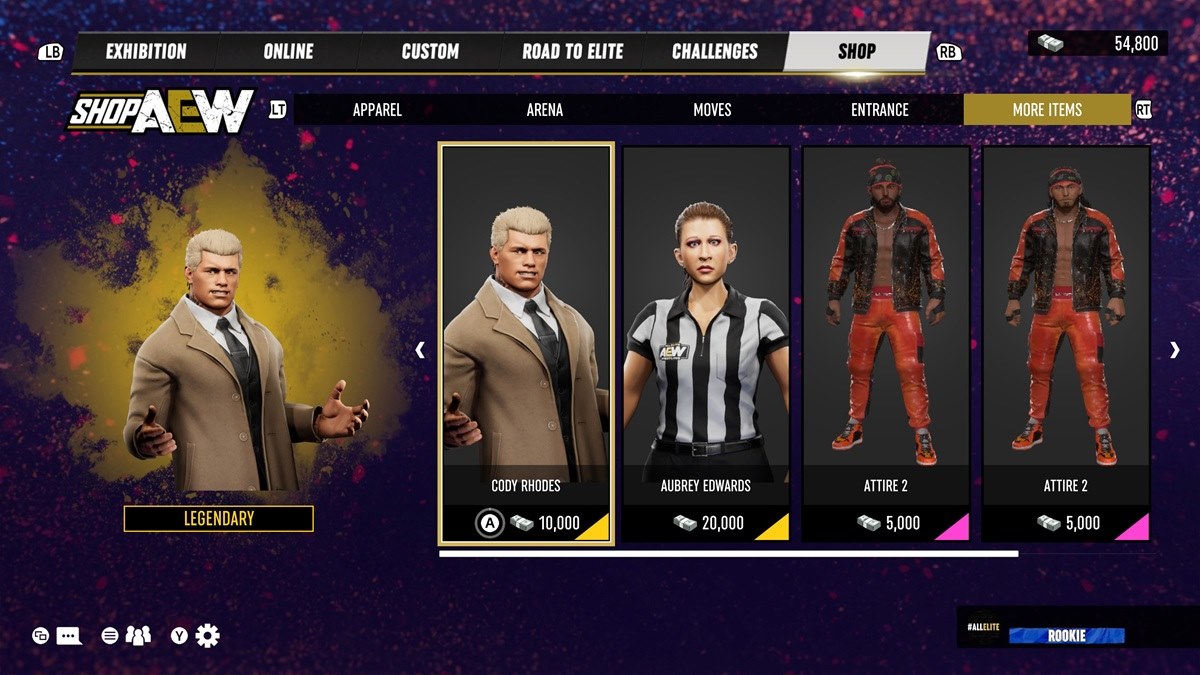 Cody Rhodes' Moveset and Skills
Here are Cody Rhode's moves and skills in AEW: Fight Forever:
Signature #1: Cody Cutter 4 — Springboard to standing opponent.
Signature #2: Figure Four Leglock — Lower body (face up).
Finisher #1: Cross Rhodes — Grapple (rear).
Finisher #2: Tiger Driver '98 — Grapple (front).
Unfortunately, I found that Cody's stats are fairly average, including a very slow Momentum Rate. However, I think he does have some nifty passive skills, such as Down But Not Out and Elite Defense. The former has a chance of giving maximum Momentum when his HP reaches zero. The latter, meanwhile, has a slight chance of causing him to counter finishers.
In any case, once you've unlocked Cody Rhodes in AEW: Fight Forever, you can use him in a variety of exhibition matches, as well as Road to Elite (though he won't be able to gain additional skills or stats). He's just one of several wrestlers that you can discover as you play the game. Others include Aubrey Edwards, Brodie Lee, Owen Hart, and Paul Wight. For other tips and info, you can visit our AEW: FF guides hub.
About the author