The King of Harts, Owen Hart, is a playable wrestler in AEW: Fight Forever. Hart's passing in 1999 was one of the most tragic moments in the industry. Now, though, given that this game is in no way affiliated with the WWE, we'll get to see him in action once again. Here's how to unlock him.
How to Unlock Owen Hart in AEW: Fight Forever
To unlock Owen Hart in AEW: Fight Forever, you simply need to complete and win 100 singles (i.e., 1-on-1) exhibition matches. This allows you to purchase him in the Shop menu for 50,000 credits.
All exhibition matches are included in your overall tally except for the following:
All Road to Elite matches — Surprisingly, Road to Elite isn't part of this tally, even though you're likely to try it out due to other unlockable wrestlers and CAW skills.
Training matches
Minigames
You can use Owen Hart in a variety of exhibition matches, as well as Road to Elite, though he won't be able to gain additional skills or stats.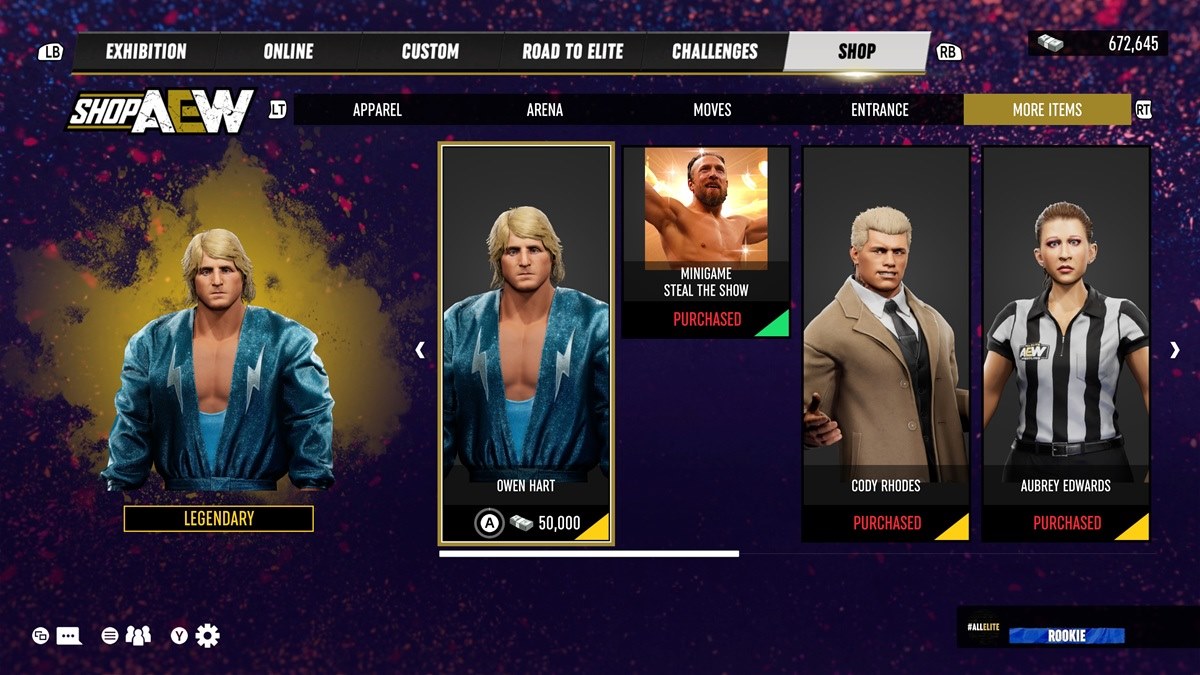 Solo Players: How to Win 100 Exhibition Matches to Get Owen Hart
There are a few methods that can help you win 100 exhibition matches to unlock Owen Hart. The most important one is to go to Options -> Match and set the difficulty to easy.
Next up, you'll want to make a CAW that you can use as a noob/jobber (I named mine Noobie Noobster, because why not?). By default, CAWs don't have increased stats or skills. As such, they're unlikely to break out of finisher pins or use leverage moves.
Simply start a normal 1-on-1 match and do the following:
Pick any AEW wrestler with a high Momentum Rate and a front-facing/grapple signature move.
Choose your CAW noobie as the opponent.
Beat up your opponent until your signature flashes. Then, keep spamming it until your foe's gauge is blue (i.e., in danger). Pin them for the win.
Alternatively, bring your opponent outside, and continue taking them down while the referee is making their 10 count. Once the count reaches 8 or 9, do a grapple that sends your opponent to the floor, then run back inside the ring. You'll get a count-out victory, but that's fine.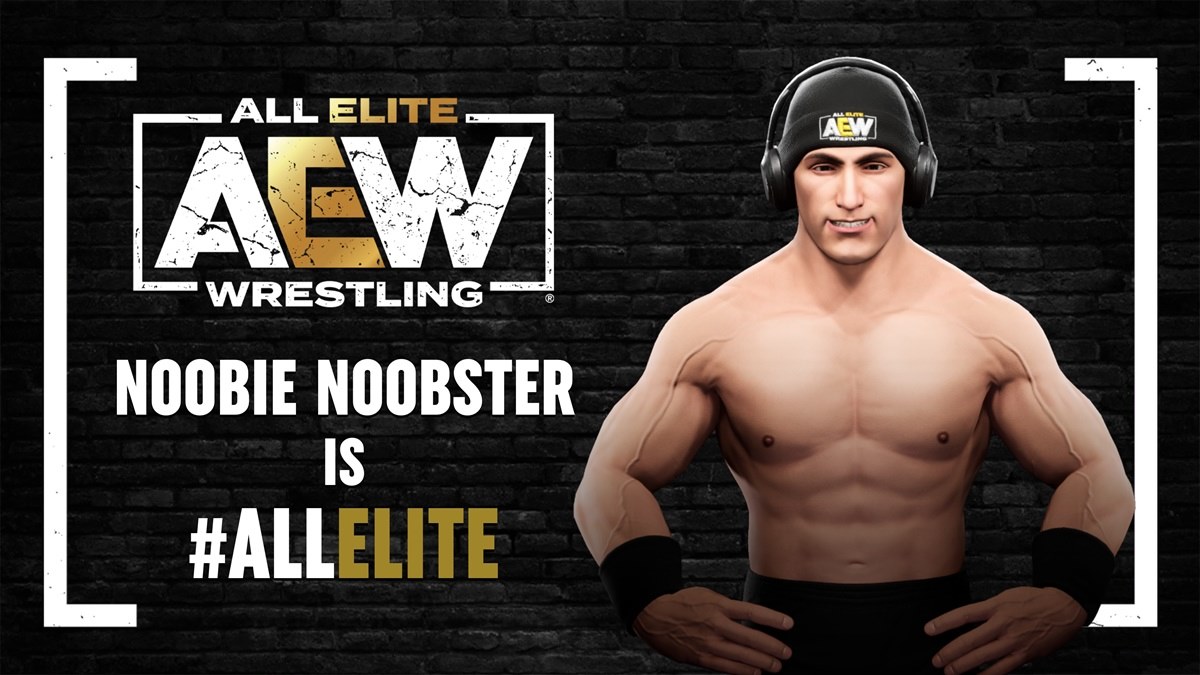 Two Controllers: The Fastest Way to Get 100 Victories
Still, the fastest way to earn 100 victories to unlock Owen Hart in AEW: Fight Forever involves using two controllers. Alternatively, if you're on PC, you can use one gamepad and activate Player 2 commands via keyboard. Here are the steps I followed:
I chose an AEW wrestler and picked the CAW as the opponent.
Once the match started, I simply did a clothesline and went for the pin.
Since I was also controlling Player 2, my rival didn't bother kicking out.
After seeing the rewards screen, simply select Rematch so you can redo the whole thing.
To check how many wins you still need, wait for the rewards screen at the end of the bout, then go to Challenges -> Normal.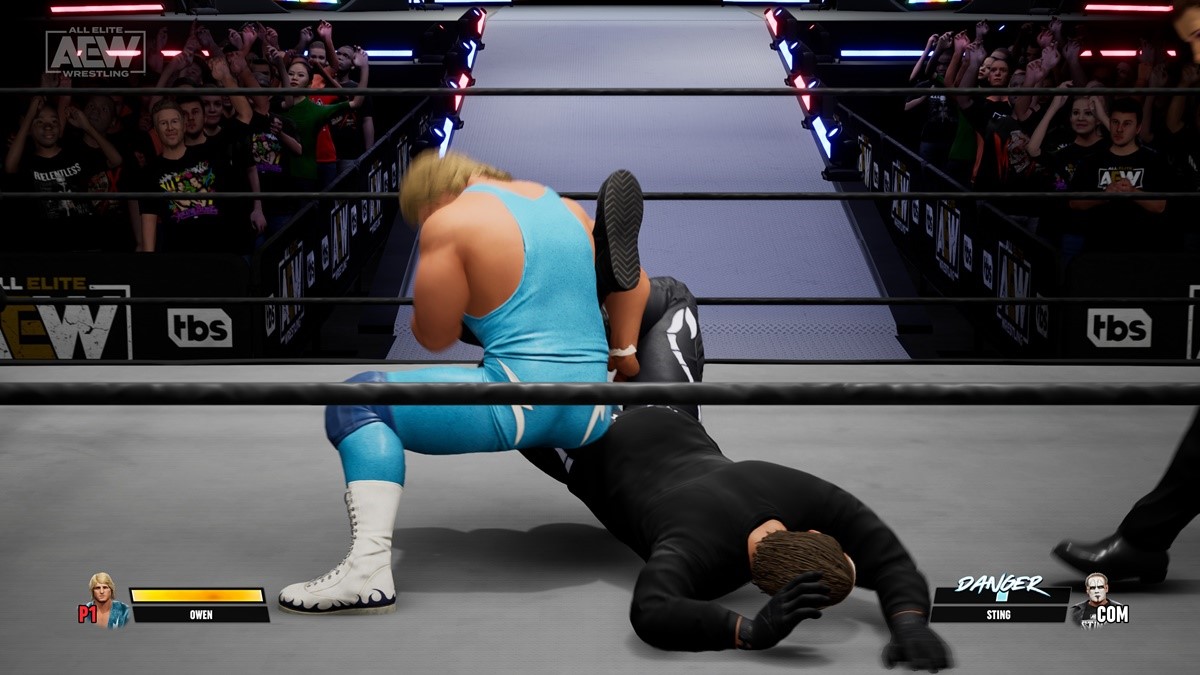 This pseudo-Fingerpoke of Doom shortcut method does work. However, take note that this is only for 1-on-1 exhibition matches. If you've played, say, 10 multi-person matches (i.e., 4-way or Casino Battle Royale), then you'd need to complete an additional 10 singles matches to reach the threshold.
In any case, all that's left is to go to the Shop menu and spend 50,000 credits to unlock Owen Hart. Likewise, you'll get the "King of Harts" achievement for your efforts (i.e., complete 100 singles matches in exhibition mode).
Owen Hart is just one of several wrestlers that you can unlock as you play AEW: Fight Forever. Others include Cody Rhodes, Aubrey Edwards, Brodie Lee, and Paul Wight. For other tips and info, you can visit our AEW: FF guides hub.
About the author