The Diablo 4 Ruins of Eridu dungeon is a place that you'll definitely want to visit. Whether you're playing as a Necromancer or another class, there are some nifty rewards to be found inside. Our Diablo 4 Ruins of Eridu guide tells you where to find this dungeon's location, how to get the Sacrificial Aspect reward, and why this area is great for XP farming.
Where to Find and How to Complete Ruins of Eridu in Diablo 4
Location: Hawezar — Toxic Fens.
Slay all enemies in the initial area.
Defeat Banes of Eridu.
Beat Spiritcaller of Flames.
Ruins of Eridu Location
The Diablo 4 Ruins of Eridu dungeon is found in Hawezar — Toxic Fens. You'll want to check out the southern portion to see the sub-zone. You can either use the Zarbinzet fast travel point, or the one in Vyeresz Stronghold, assuming you've already conquered it.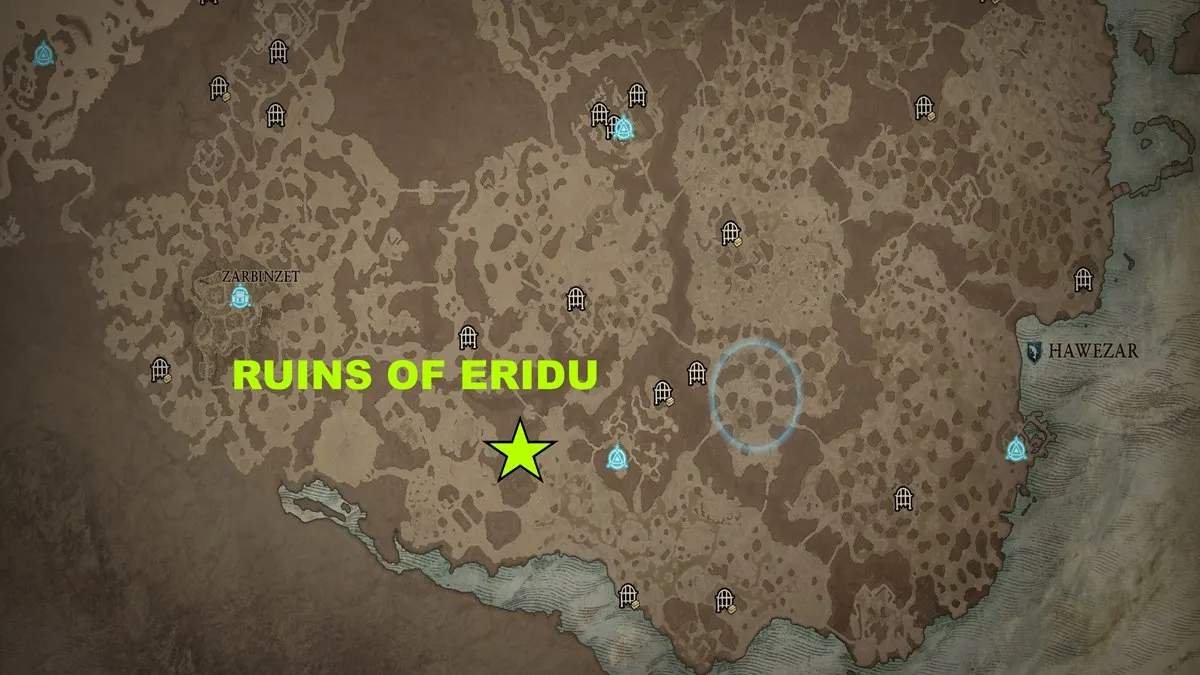 How to Slay All Enemies and the Banes of Eridu
When you enter, you'll notice a combination of Fallen and Zombie-type enemy mobs. In the first area, you'll need to eliminate all hostiles, down to the lowliest undead crawling around. As an aside, I once encountered The Butcher boss here. Yes, it also counts as an "enemy" that has to be defeated. However, if it manages to kill your character instead, you'll still complete the initial objective.
Once you're done with that are of the Ruins of Eridu, head to the next area. The goal now is to take out the Banes of Eridu, which are two Bloater elites with random affixes.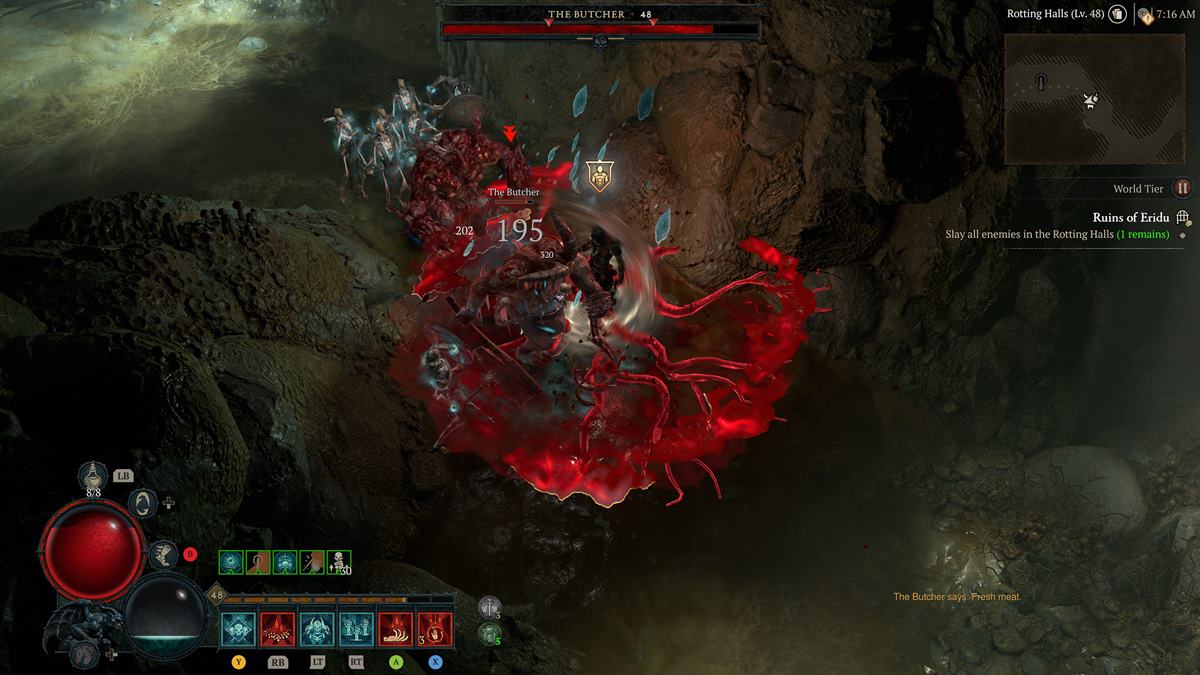 How to Beat the Ruins of Eridu Boss: Spiritcaller of Flames
After you're done with the above tasks, it's time to battle the Diablo 4 Ruins of Eridu boss, the Spiritcaller of Flames. Think of this opponent as somewhat akin to a Fallen Shaman. It mostly casts fireballs and flame eruptions, all while summoning a few Fallen mobs.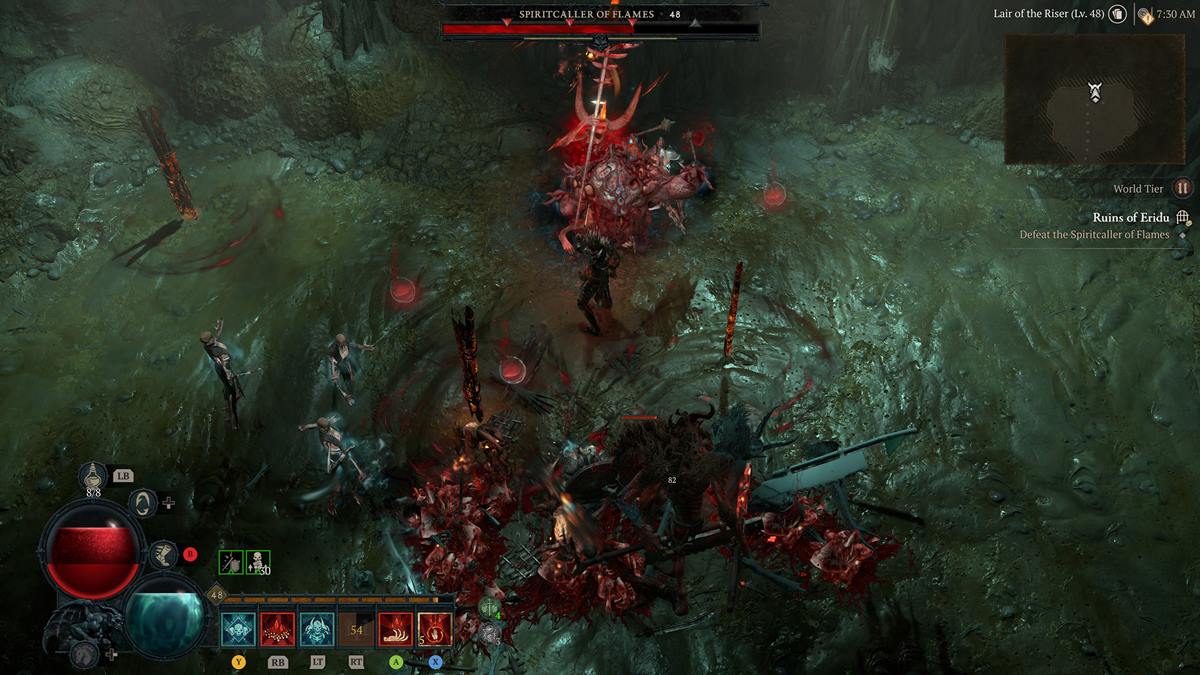 Sacrificial Aspect Reward and Future Farming Runs
With your foe defeated, you'll receive the Sacrificial Aspect for the Necromancer. It has the following effect: "Sacrifice bonuses are increased by 15%." This makes the perk viable for those who want to rely more on their abilities, as opposed to undead minions.
Lastly, it bears mentioning that the Diablo 4 Ruins of Eridu dungeon is one of the best places for farming runs. That's because the initial objective, where you have to slay all enemies, also leads to more elite spawns and horde packs. You can learn more in our best farmable dungeons guide.
And that's it. That's everything you need to know about completing the Ruins of Eridu dungeon in Diablo 4. For more tips, walkthroughs, and strategies, our Diablo 4 tips hub has you covered.
About the author