Available Narwhale.io skins and how to use them
A basic guide to Narwhale.io skins.
Are there too many .io games these days? It's hard to say, but I'm not about to complain about endless free entertainment and you probably won't either.
Narwhale.io is yet another one of the free to play arena PvP games to hit the scene that is crawling its way to popularity, and for good reason. This one's fast speed is perfect to pick up for a few minutes at a time and somehow lacks the stress of some other .io games (I'm looking at you, Diep.io).
Fun gameplay is key, but customization is important to most .io game players, and you are probably included. You want your narwhale to look just as good (if not better) than the rest and luckily enough choosing skins is easy as can be.
How to use skins
Unlike some other games you don't have to log in or share on social media to unlock skins, Narwhale.io let's you do it with no other fuss. The only problem is it's hard to see how to do it.
When you go to the Narwhale.io website, take a look at the bottom right of the screen and find where it says "CUSTOM".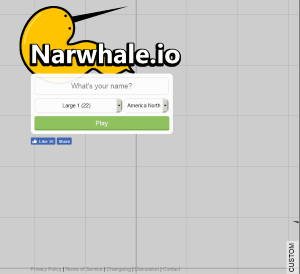 Click on "CUSTOM" and you'll be given both skin and color options for your narwhale.
Available Narwhale.io skins
The game is fairly new and is being updated with new skins frequently. Here are the skins currently available at the time of writing, along with what they are.
Note: You can only change your body's color with skins that do not cover the entire body. Skins such as the German flag, the hot dog, and the tempura shrimp can not have their color changed.
Plain
French flag
Japanese flag
Taiwanese flag
Black shirt with white stitching
Tempura shrimp
Black and white stripes
Rainbow stripes
American flag
Brazilian flag
German flag
Dress and earring (maybe?)
Grass skirt
Hot dog
The game's skins don't look amazing, but I'm more interested in getting the kebab on my horn or the crown on my head when playing than what I look like (though the American flag teamers are a headache).
If you like the game as much as I do, make sure to tell your friends about it and get them into the brutal tusk-stabbing fun of Narwhale.io.
Published Sep. 10th 2016