Hello, and welcome to what I hope will be useful to at least some Final Fantasy XIV players: a list of all Goldsmith recipes!
This guide is outdated as of the 2.1 patch! I will be fixing it all up once I can. Please check my FFXIV guide list for updates. Sorry for the inconvenience!
This is the segmented version of an otherwise full list. I've put up two versions to choose from because of the sheer amount of recipes currently in-game. This segmented style may be more palatable to some readers. Those of you looking for the list in full can check out the Full Goldsmith Recipe List.
The list is fairly straight-forward: Each slide here contains 10 levels' of recipes. This one entails levels 1 through 10, the next contains levels 11 through 20, and so on.
Sometime next week, the amount of each ingredient needed to complete each level tier will be added to this list as well as how much of a particular item are crafted per synthesis.
(I will be adding amount made to each listing soon. If you see any typos, let me know! I typed this list manually and seem to not have caught them all.)
Recipes levels 1 through 5
Copper Ingot (Level 1)
1 Wind Shard
3 Copper Ore

Bone Hora (Level 2)
1 Fire Shard
1 Wind Shard
1 Animal Sinew
2 Bone Chip

Bone Brand (Level 3)
1 Fire Shard
1 Wind Shard
1 Marbled Eye
1 Bone Chip

Copper Rings (Level 4)
1 Fire Shard
1 Copper Ingot

Copper Wristlets (Level 5)
1 Fire Shard
1 Wind Shard
1 Copper Ingot
2 Copper Rings

Copper Gorget (Level 5)
1 Fire Shard
1 Wind Shard
2 Copper Ingot
1 Leather

Bone Staff (Level 5)
1 Fire Shard
1 Wind Shard
1 Marbled Eye
1 Bone Chip
1 Soiled Femur
Recipes levels 6 through 10
Ragstone Whetstone (Level 6)
1 Wind Shard
2 Ragstone

Copper Earrings (Level 6)
1 Fire Shard
1 Wind Shard
1 Copper Ingot
1 Ragstone Whetstone

Copper Ring (Level 7)
1 Fire Shard
1 Wind Shard
1 Copper Ingot
1 Ragstone Whetstone

Bone Ring (Level 7)
1 Fire Shard
1 Wind Shard
1 Ragstone Whetstone
1 Bone Chip

Bone Necklace (Level 8)
1 Fire Shard
1 Wind Shard
1 Copper Rings
2 Soiled Femur

Copper Needle (Level 8)
1 Fire Shard
1 Wind Shard
1 Copper Ingot
1 Ragstone Whetstone

Copper Choker (Level 9)
1 Fire Shard
1 Wind Shard
2 Copper Ingot
1 Hard Leather

Ramhorn Staff (Level 9)
1 Fire Shard
1 Wind Shard
1 Marbled Eye
2 Ram Horn

Ramhorn Claws (Level 10)
1 Fire Shard
1 Wind Shard
1 Animal Sinew
2 Ram Horn

Bone Armillae (Level 10)
1 Fire Shard
1 Wind Shard
3 Soiled Femur

Copper Sceptre (Level 10)
1 Fire Shard
1 Wind Shard
1 Copper Ingot
1 Marbled Eye
---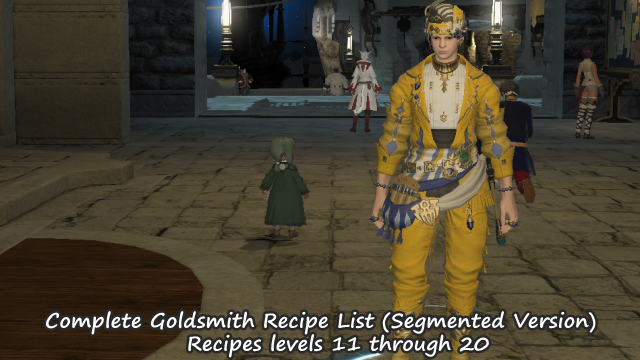 Recipes levels 11 through 15
Copper Ear Cuffs (Level 11)
1 Fire Shard
1 Wind Shard
2 Copper Ingot
1 Ragstone Whetstone

Bronze Scepter (Level 12)
1 Fire Shard
1 Wind Shard
1 Bronze Ingot
1 Marbled Eye

Amateur's Needle (Level 12)
1 Fire Shard
1 Wind Shard
1 Bat Fang

Decorated Bone Staff (Level 13)
1 Fire Shard
1 Wind Shard
1 Bone Staff
1 Soiled Femur
2 Bat Fang

Fluorite (Level 13)
1 Wind Shard
1 Raw Fluorite

Danburite (Level 13)
1 Wind Shard
1 Raw Danburite

Sunstone (Level 13)
1 Wind Shard
1 Raw Sunstone

Lapis Lazuli (Level 14)
1 Wind Shard
1 Raw Lapis Lazuli

Malachite (Level 14)
1 Wind Shard
1 Raw Malachite

Sphene (Level 14)
1 Wind Shard
1 Raw Sphene

Brass Ingot (Level 14)
1 Wind Shard
2 Copper Ore
1 Zinc Ore

Brass Cudgel (Level 14)
1 Fire Shard
1 Wind Shard
1 Bronze Ingot
1 Brass Ingot
1 Marbled Eye

Brass Spectacles (Level 14)
1 Fire Shard
1 Wind Shard
1 Brass Ingot
1 Clear Glass Lens

Brass Wristlets (Level 15)
1 Fire Shard
1 Wind Shard
1 Brass Ingot
2 Brass Rings

Brass Gorget (Level 15)
1 Fire Shard
1 Wind Shard
2 Brass Ingot
1 Hard Leather

Fang Earrings (Level 15)
1 Fire Shard
1 Wind Shard
1 Brass Ingot
1 Hard Leather
1 Bat Fang

Brass Rings (Level 15)
1 Wind Shard
1 Brass Ingot
Recipes levels 16 through 20
Bat Fang Needle (Level 16)
1 Fire Shard
1 Wind Shard
1 Ragstone Whetstone
1 Bat Fang

Brass Wristlets Of Crafting (Level 16)
1 Fire Shard
1 Wind Shard
1 Brass Ingot
2 Brass Rings

Toothed Ramhorn Staff (Level 17)
1 Fire Shard
1 Wind Shard
1 Ramhorn Staff
1 Ragstone Whetstone
2 Ram Horn

Brass Earrings (Level 17)
1 Fire Shard
1 Wind Shard
1 Brass Ingot
1 Ragstone Whetstone

Fang Necklace (Level 17)
1 Fire Shard
1 Wind Shard
1 Cotton Yarn
2 Bat Fang

Brass Circlet (Sunstone) (Level 18)
1 Fire Shard
1 Wind Shard
3 Brass Ingot
1 Sunstone

Brass Circlet (Danburite) (Level 18)
1 Fire Shard
1 Wind Shard
3 Brass Ingot
1 Danburite

Brass Circlet (Fluorite) (Lv 18)
1 Fire Shard
1 Wind Shard
3 Brass Ingot
1 Fluorite

Brass Circlet (Lapis Lazuli) (Level 19)
1 Fire Shard
1 Wind Shard
3 Brass Ingot
1 Lapis Lazuli

Brass Circlet (Malachite) (Level 19)
1 Fire Shard
1 Wind Shard
3 Brass Ingot
1 Malachite

Brass Circlet (Sphene) (Level 19)
1 Fire Shard
1 Wind Shard
3 Brass Ingot
1 Sphene

Staghorn Staff (Level 19)
1 Fire Shard
1 Wind Shard
1 Marbled Eye
2 Antelope Horn

Coral Armillae (Level 19)
1 Fire Shard
1 Wind Shard
3 White Coral

Mudstone Whetstone (Level 20)
1 Wind Shard
2 Mudstone

Decorated Copper Scepter (Level 20)
1 Fire Shard
1 Wind Shard
1 Copper Scepter
1 Brass Ingot
1 Ragstone Whetstone

Brass Ring (Level 20)
1 Fire Shard
1 Wind Shard
1 Brass Ingot
1 Ragstone Whetstone

Brass Ring Of Crafting (Level 20)
1 Fire Shard
1 Wind Shard
1 Brass Ingot
1 Ragstone Whetstone

Crow Fly (Level 20)
1 Fire Shard
1 Wind Shard
1 Brass Ingot
1 Crow Feather
---
Recipes levels 21 through 25
Brass Ear Cuffs (Level 21)
1 Fire Shard
2 Wind Shard
2 Brass Ingot
1 Ragstone Whetstone

Coral Ring (Level 21)
1 Fire Shard
2 Wind Shard
1 Mudstone Whetstone
1 White Coral

Brass Choker (Level 21)
1 Fire Shard
2 Wind Shard
2 Brass Ingot
1 Hard Leather

Eye Of Ice (Level 22)
2 Wind Shard
1 Ice Rock

Eye Of Water (Level 22)
2 Wind Shard
1 Water Rock

Eye Of Lightning (Level 22)
2 Wind Shard
1 Lightning Rock

Brass Needle (Level 22)
1 Fire Shard
2 Wind Shard
1 Brass Ingot
1 Mudstone Whetstone

Floating Minnow (Level 22)
1 Fire Shard
2 Wind Shard
1 Brass Ingot
1 Ash Lumber

Brass Spoon Lure (Level 23)
1 Fire Shard
2 Wind Shard
1 Brass Ingot
1 Mudstone Whetstone

Wind Brand (Level 23)
1 Fire Shard
2 Wind Shard
1 Eye Of Wind
1 Aldgoat Leather
1 Antelope Horn

Silver Ingot (Level 23)
2 Wind Shard
3 Silver Ore

Eye Of Fire (Level 23)
2 Wind Shard
1 Fire Rock

Eye Of Wind (Level 23)
2 Wind Shard
1 Wind Rock

Eye Of Earth (Level 23)
2 Wind Shard
1 Earth Rock

Silver Rings (Level 24)
2 Wind Shard
1 Silver Ingot

Initiate's Needle (Level 24)
2 Fire Shard
2 Wind Shard
1 Iron Ingot
1 Mudstone Whetstone

Silver Spectacles (Level 24)
2 Fire Shard
2 Wind Shard
1 Silver Ingot
1 Clear Glass Lens

Horn Earrings (Level 24)
2 Fire Shard
2 Wind Shard
1 Silver Ingot
1 Aldgoat Leather
1 Antelope Horn

Silver Wristlets Of Crafting (Level 25)
2 Fire Shard
2 Wind Shard
1 Silver Ingot
2 Silver Rings

Silver Wristlets (Level 25)
2 Fire Shard
2 Wind Shard
1 Silver Ingot
2 Silver Rings

Silver Gorget (Level 25)
2 Fire Shard
2 Wind Shard
2 Silver Ingot
1 Aldogoat Leather

Toothed Staghorn Staff (Level 25)
2 Fire Shard
2 Wind Shard
1 Staghorn Staff
2 Antelope Horn
1 Scalekin Blood

Ice Brand (Level 25)
2 Fire Shard
2 Wind Shard
1 Brass Ingot
1 Eye Of Ice
1 Antelope Horn

Silver Magnifiers (Level 25)
2 Fire Shard
2 Wind Shard
1 Silver Spectacles
1 Silver Ingot
1 Clear Glass Lens
Recipes levels 26 through 30
Silver Needle (Level 26)
2 Fire Shard
2 Wind Shard
1 Silver Ingot
1 Mudstone Whetstone

Silver Scepter (Level 26)
2 Fire Shard
2 Wind Shard
1 Silver Ingot
1 Marbled Eye
1 Brimstone

Horn Necklace (Level 26)
2 Fire Shard
2 Wind Shard
1 Dew Thread
2 Antelope Horn

Silver Ring Of Crafting (Level 26)
2 Fire Shard
2 Wind Shard
1 Silver Ingot
1 Mudstone Whetstone

Silver Ring (Level 26)
2 Fire Shard
2 Wind Shard
1 Silver Ingot
1 Mudstone Whetstone

Silver Earrings (Level 26)
2 Fire Shard
2 Wind Shard
1 Silver Ingot
1 Mudstone Whetstone

Danburite Ring (Level 27)
2 Fire Shard
3 Wind Shard
1 Silver Ingot
1 Danburite

Danburite Earrings (Level 27)
2 Fire Shard
3 Wind Shard
1 Silver Ingot
2 Danburite

Danburite Bracelet (Level 27)
2 Fire Shard
3 Wind Shard
1 Silver Ingot
2 Danburite

Danburite Choker (Level 27)
2 Fire Shard
3 Wind Shard
2 Silver Ingot
1 Danburite

Sunstone Ring (Level 27)
2 Fire Shard
3 Wind Shard
1 Silver Ingot
1 Sunstone

Sunstone Earrings (Level 27)
2 Fire Shard
3 Wind Shard
1 Silver Ingot
2 Sunstone

Sunstone Bracelet (Level 27)
2 Fire Shard
3 Wind Shard
1 Silver Ingot
2 Sunstone

Sunstone Choker (Level 27)
2 Fire Shard
3 Wind Shard
2 Silver Ingot
1 Sunstone

Lapis Lazuli Ring (Level 28)
2 Fire Shard
3 Wind Shard
1 Silver Ingot
1 Lapis Lazuli

Lapis Lazuli Earrings (Level 28)
2 Fire Shard
3 Wind Shard
1 Silver Ingot
2 Lapis Lazuli

Lapis Lazuli Bracelet (Level 28)
2 Fire Shard
3 Wind Shard
1 Silver Ingot
2 Lapis Lazuli

Lapis Lazuli Choker (Level 28)
2 Fire Shard
3 Wind Shard
2 Silver Ingot
1 Lapis Lazuli

Fluorite Ring (Level 28)
2 Fire Shard
3 Wind Shard
1 Silver Ingot
1 Fluorite

Fluorite Earrings (Level 28)
2 Fire Shard
3 Wind Shard
1 Silver Ingot
2 Fluorite

Fluorite Bracelet (Level 28)
2 Fire Shard
3 Wind Shard
1 Silver Ingot
2 Fluorite

Fluorite Choker (Level 28)
2 Fire Shard
3 Wind Shard
2 Silver Ingot
1 Fluorite

Sphene Earrings (Level 29)
2 Fire Shard
3 Wind Shard
1 Silver Ingot
2 Sphene

Sphene Ring (Level 29)
2 Fire Shard
3 Wind Shard
1 Silver Ingot
1 Sphene

Sphene Choker (Level 29)
2 Fire Shard
3 Wind Shard
2 Silver Ingot
1 Sphene

Sphene Bracelet (Level 29)
2 Fire Shard
3 Wind Shard
1 Silver Ingot
2 Sphene

Chocobo Fly (Level 30)
3 Fire Shard
3 Wind Shard
1 Silver Ingot
1 Chocobo Feather

Siltstone Whetstone (Level 30)
3 Wind Shard
2 Siltstone

Malachite Choker (Level 30)
3 Fire Shard
3 Wind Shard
2 Silver Ingot
1 Malachite

Malachite Bracelet (Level 30)
3 Fire Shard
3 Wind Shard
1 Silver Ingot
2 Malachite

Malachite Earrings (Level 30)
3 Fire Shard
3 Wind Shard
1 Silver Ingot
2 Malachite

Malachite Ring (Level 30)
3 Fire Shard
3 Wind Shard
1 Silver Ingot
1 Malachite
---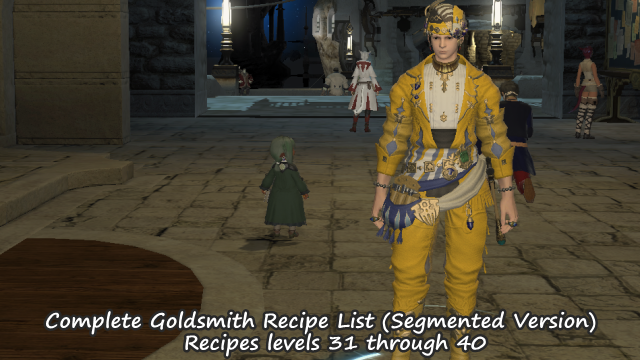 Recipies levels 31 through 35
Horn Armillae (Level 31)
3 Fire Shard
3 Wind Shard
3 Aldgoat Horn

Goathorn Staff (Level 31)
3 Fire Shard
3 Wind Shard
1 Marbled Eye
2 Aldgoat Horn

Silver Ear Cuffs (Level 31)
3 Fire Shard
3 Wind Shard
2 Silver Ingot
1 Siltstone Whetstone

Horn Ring (Level 31)
3 Fire Shard
3 Wind Shard
1 Siltstone Whetstone
1 Aldgoat Horn

Silver Choker (Level 31)
3 Fire Shard
3 Wind Shard
2 Silver Ingot
1 Aldgoat Horn

Goshenite (Level 32)
3 Wind Shard
1 Raw Goshenite

Garnet (Level 32)
3 Wind Shard
1 Raw Garnet

Amethyst (Level 32)
3 Wind Shard
1 Raw Amethyst

Heliodor (Level 32)
3 Wind Shard
1 Raw Heliodor

Aquamarine (Level 32)
3 Wind Shard
1 Raw Aquamarine

Peridot (Level 32)
3 Wind Shard
1 Raw Peridot

Silver Spoon Lure (Level 32)
3 Fire Shard
3 Wind Shard
2 Silver Ingot
1 Mudstone Whetstone

Worm Fang Needle (Level 32)
3 Fire Shard
3 Wind Shard
1 Siltstone Whetstone
1 Wolf Fang

Iron Jig (Level 32)
3 Fire Shard
3 Wind Shard
2 Steel Ingot
1 Siltstone Whetstone

Silver Circlet (Aquamarine) (Level 33)
3 Fire Shard
4 Wind Shard
3 Silver Ingot
1 Aquamarine

Silver Circlet (Amethyst) (Level 33)
3 Fire Shard
4 Wind Shard
3 Silver Ingot
1 Amethyst

Silver Circlet (Heliodor) (Level 33)
3 Fire Shard
4 Wind Shard
3 Silver Ingot
1 Heliodor

Silver Circlet (Goshenite) (Level 33)
3 Fire Shard
4 Wind Shard
3 Silver Ingot
1 Goshenite

Silver Circlet (Peridot) (Level 33)
3 Fire Shard
4 Wind Shard
3 Silver Ingot
1 Peridot

Silver Circlet (Garnet) (Level 33)
3 Fire Shard
4 Wind Shard
3 Silver Ingot
1 Garnet

Earth Brand (Level 34)
3 Fire Shard
4 Wind Shard
1 Eye Of Earth
1 Toad Leather
1 Aldgoat Horn

Steel Goggles (Level 34)
3 Fire Shard
4 Wind Shard
1 Steel Plate
1 Aldgoat Leather
1 Clear Glass Lens

Crabshell Hora (Level 34)
3 Fire Shard
4 Wind Shard
1 Hippogryph Sinew
2 Green Megalocrab Shell

Mythril Ingot (Level 34)
4 Wind Shard
3 Mythril Ore

Decorated Silver Scepter (Level 34)
3 Fire Shard
4 Wind Shard
1 Silver Scepter
2 Silver Ingot
1 Scalekin Blood

Mythril Magnifiers (Level 34)
3 Fire Shard
4 Wind Shard
1 Mythril Spectacles
1 Mythril Ingot
1 Clear Glass Lens

Mythril Spectacles (Level 34)
3 Fire Shard
4 Wind Shard
1 Mythril Ingot
1 Clear Glass Lens

Sinking Minnow (Level 34)
3 Fire Shard
4 Wind Shard
1 Silver Ingot
1 Oak Lumber

Vintage Cudgel (Level 35)
1 Wind Crystal
1 Damaged Cudgel
1 Iron Rivets
1 Siltstone Whetstone

Mythril Rings (Level 35)
4 Wind Shard
1 Mythril Ingot

Mythril Wristlets Of Crafting (Level 35)
3 Fire Shard
4 Wind Shard
1 Mythril Ingot
2 Mythril Rings

Mythril Earrings (Level 35)
3 Fire Shard
4 Wind Shard
1 Mythril Ingot
1 Siltstone Whetstone

Mythril Wristlets (Level 35)
3 Fire Shard
4 Wind Shard
1 Mythril Ingot
2 Mythril Rings

Mythril Gorget (Level 35)
3 Fire Shard
4 Wind Shard
2 Mythril Ingot
1 Toad Leather

Fire Brand (Level 35)
3 Fire Shard
4 Wind Shard
1 Silver Ingot
1 Eye Of Fire
1 Aldgoat Horn

Wolf Earrings (Level 35)
3 Fire Shard
4 Wind Shard
1 Mythril Ingot
1 Boar Leather
1 Wolf Fang

Toothed Goathorn Staff (Level 35)
3 Fire Shard
4 Wind Shard
1 Goathorn Staff
2 Aldgoat Horn
1 Scalekin Blood
Recipes levels 36 through 40
Mythril Ring (Level 36)
4 Fire Shard
4 Wind Shard
1 Mythril Ingot
1 Siltstone Whetstone

Wolf Necklace (Level 36)
4 Fire Shard
4 Wind Shard
1 Linen Yarn
2 Wolf Fang

Mythril Ring Of Crafting (Level 36)
4 Fire Shard
4 Wind Shard
1 Mythril Ingot
1 Siltstone Whetstone

Wildfowl Fly (Level 36)
4 Fire Shard
4 Wind Shard
1 Silver Ingot
1 Wildfowl Feather

Pearl (Level 36)
4 Wind Shard
1 Whitelip Oyster

Mythril Needle (Level 36)
4 Fire Shard
4 Wind Shard
1 Mythril Ingot
1 Siltstone Whetstone
Amethyst Choker (Level 37)
4 Fire Shard
5 Wind Shard
2 Mythril Ingot
1 Amethyst
Aquamarine Choker (Level 37)
4 Fire Shard
4 Wind Shard
2 Mythril Ingot
1 Aquamarine

Garnet Choker (Level 37)
4 Fire Shard
4 Wind Shard
2 Mythril Ingot
1 Garnet

Heavy Iron Jig (Level 37)
4 Fire Shard
4 Wind Shard
1 Steel Ingot
1 Basilisk Whetstone

Heliodor Choker (Level 37)
4 Fire Shard
4 Wind Shard
2 Mythril Ingot
1 Heliodor

Peridot Choker (Level 37)
4 Fire Shard
4 Wind Shard
2 Mythril Ingot
1 Peridot

Pearl Choker (Level 37)
4 Fire Shard
4 Wind Shard
2 Mythril Ingot
1 Pearl

Goshenite Choker (Level 37)
4 Fire Shard
4 Wind Shard
2 Mythril Ingot
1 Goshenite

Peridot Bracelet (Level 38)
4 Fire Shard
4 Wind Shard
1 Mythril Ingot
2 Peridot

Aquamarine Bracelet (Level 38)
4 Fire Shard
4 Wind Shard
1 Mythril Ingot
2 Aquamarine

Amethyst Bracelet (Level 38)
4 Fire Shard
4 Wind Shard
1 Mythril Ingot
2 Amethyst

Garnet Bracelet (Level 38)
4 Fire Shard
4 Wind Shard
1 Mythril Ingot
2 Garnet

Goshenite Bracelet (Level 38)
4 Fire Shard
4 Wind Shard
1 Mythril Ingot
2 Goshenite

Heliodor Bracelet (Level 38)
4 Fire Shard
4 Wind Shard
1 Mythril Ingot
2 Heliodor

Pearl Bracelet (Level 38)
4 Fire Shard
4 Wind Shard
1 Mythril Ingot
2 Pearl

Spinner (Level 39)
4 Fire Shard
5 Wind Shard
1 Whitelip Oyster
1 Mythril Ingot

Amethyst Ring (Level 39)
4 Fire Shard
5 Wind Shard
1 Mythril Ingot
1 Amethyst

Amethyst Earrings (Level 39)
4 Fire Shard
5 Wind Shard
1 Mythril Ingot
2 Amethyst

Aquamarine Earrings (Level 39)
4 Fire Shard
5 Wind Shard
1 Mythril Ingot
2 Aquamarine

Garnet Earrings (Level 39)
4 Fire Shard
5 Wind Shard
1 Mythril Ingot
2 Garnet

Garnet Ring (Level 39)
4 Fire Shard
5 Wind Shard
1 Mythril Ingot
1 Garnet

Goshenite Earrings (Level 39)
4 Fire Shard
5 Wind Shard
1 Mythril Ingot
2 Goshenite

Goshenite Ring (Level 39)
4 Fire Shard
5 Wind Shard
1 Mythril Ingot
1 Goshenite

Aquamarine Ring (Level 39)
4 Fire Shard
5 Wind Shard
1 Mythril Ingot
1 Aquamarine

Peridot Earrings (Level 40)
4 Fire Shard
5 Wind Shard
1 Mythril Ingot
2 Peridot

Peridot Ring (Level 40)
4 Fire Shard
5 Wind Shard
1 Mythril Ingot
1 Peridot

Heliodor Earrings (Level 40)
4 Fire Shard
5 Wind Shard
1 Mythril Ingot
2 Heliodor

Heliodor Ring (Level 40)
4 Fire Shard
5 Wind Shard
1 Mythril Ingot
1 Heliodor

Jadeite (Level 40)
5 Wind Shard
1 Jade
Basilisk Whetstone (Level 40)
5 Wind Shard
1 Basilisk Egg

Red Coral Armillae (Level 40)
4 Fire Shard
5 Wind Shard
3 Red Coral
---
Recipes levels 41 through 45
Zircon (Level 41)
5 Wind Shard
1 Raw Zircon

Tourmaline (Level 41)
5 Wind Shard
1 Raw Tourmaline

Turquoise (Level 41)
5 Wind Shard
1 Raw Turquoise

Rubellite (Level 41)
5 Wind Shard
1 Raw Rubellite

Spinel (Level 41)
5 Wind Shard
1 Raw Spinel

Amber (Level 41)
5 Wind Shard
1 Raw Amber

Horn Staff (Level 41)
4 Fire Shard
5 Wind Shard
1 Eye Of Fire
1 Aldgoat Horn
2 Wolf Fang

Pearl Earrings (Level 41)
4 Fire Shard
5 Wind Shard
1 Mythril Ingot
2 Pearl

Mythril Spoon Lure (Level 41)
4 Fire Shard
5 Wind Shard
1 Mythril Ingot
1 Basilisk Whetstone

Mythril Ear Cuffs (Level 41)
4 Fire Shard
5 Wind Shard
2 Mythril Ingot
1 Basilisk Whetstone

Pearl Ring (Level 41)
4 Fire Shard
5 Wind Shard
1 Mythril Ingot
1 Pearl

Mythril Choker (Level 41)
4 Fire Shard
5 Wind Shard
2 Mythril Ingot
1 Toad Leather

Mythril Circlet (Tourmaline) (Level 42)
5 Fire Shard
5 Wind Shard
3 Mythril Ingot
1 Tourmaline

Mythril Circlet (Rubellite) (Level 42)
5 Fire Shard
5 Wind Shard
3 Mythril Ingot
1 Rubellite

Mythril Circlet (Turquoise) (Level 42)
5 Fire Shard
5 Wind Shard
3 Mythril Ingot
1 Turquoise

Mythril Circlet (Spinel) (Level 42)
5 Fire Shard
5 Wind Shard
3 Mythril Ingot
1 Spinel

Mythril Circlet (Zircon) (Level 42)
5 Fire Shard
5 Wind Shard
3 Mythril Ingot
1 Zircon

Mythril Circlet (Amber) (Level 42)
5 Fire Shard
5 Wind Shard
3 Mythril Ingot
1 Amber

Lightning Brand (Level 42)
5 Fire Shard
5 Wind Shard
1 Eye Of Lightning
1 Boar Leather
1 Aldgoat Horn

Electrum Ingot (Level 42)
5 Wind Shard
4 Electrum Ore

Electrum Rings (Level 43)
5 Wind Shard
1 Electrum Ingot

Snurble Fly (Level 43)
5 Fire Shard
5 Wind Shard
1 Cobalt Ingot
1 Snurble Tufts

Electrum Scepter (Level 43)
5 Fire Shard
5 Wind Shard
1 Cobalt Ingot
1 Electrum Ingot
1 Eye Of Water
1 Quicksilver

Electrum Wristlets (Level 43)
5 Fire Shard
5 Wind Shard
1 Electrum Ingot
2 Electrum Rings

Electrum Gorget (Level 43)
5 Fire Shard
5 Wind Shard
2 Electrum Ingot
1 Peiste Leather

Water Brand (Level 43)
5 Fire Shard
5 Wind Shard
1 Electrum Ingot
1 Eye Of Water
1 Aldgoat Horn

Red Coral Earrings (Level 43)
5 Fire Shard
5 Wind Shard
1 Electrum Ingot
1 Boar Leather
1 Red Coral

Red Coral Ring (Level 43)
5 Fire Shard
5 Wind Shard
1 Basilisk Whetstone
1 Red Coral

Thousand Needle (Level 43)
5 Fire Shard
5 Wind Shard
1 Basilisk Whetstone
1 Cactuar Needle

Electrum Wristlets Of Crafting (Level 44)
5 Fire Shard
5 Wind Shard
1 Electrum Ingot
2 Electrum Rings

Cobalt Preserves (Level 44)
5 Fire Shard
5 Wind Shard
1 Cobalt Plate
1 Boar Leather
1 Clear Glass Lens

Topwater Frog (Level 44)
5 Fire Shard
5 Wind Shard
1 Cobalt Ingot
1 Rosewood Lumber

Black Horn Staff (Level 44)
5 Fire Shard
5 Wind Shard
1 Eye Of Wind
2 Ogre Horn

Electrum Earrings (Level 44)
5 Fire Shard
5 Wind Shard
1 Electrum Ingot
1 Basilisk Whetstone

Electrum Ring (Level 44)
5 Fire Shard
5 Wind Shard
1 Electrum Ingot
1 Basilisk Whetstone

Electrum Circlet (Turquoise) (Level 45)
5 Fire Shard
6 Wind Shard
3 Electrum Ingot
1 Turquoise

Electrum Circlet (Rubellite) (Level 45)
5 Fire Shard
6 Wind Shard
3 Electrum Ingot
1 Rubellite

Electrum Circlet (Tourmaline) (Level 45)
5 Fire Shard
6 Wind Shard
3 Electrum Ingot
1 Tourmaline

Electrum Circlet (Amber) (Level 45)
5 Fire Shard
6 Wind Shard
3 Electrum Ingot
1 Amber

Electrum Circlet (Zircon) (Level 45)
5 Fire Shard
6 Wind Shard
3 Electrum Ingot
1 Zircon

Electrum Circlet (Spinel) (Level 45)
5 Fire Shard
6 Wind Shard
3 Electrum Ingot
1 Spinel

Black Pearl (Level 45)
6 Wind Shard
1 Blacklip Oyster

Electrum Monocle (Level 45)
5 Fire Shard
6 Wind Shard
1 Electrum Ingot
1 Brass Rings
1 Aquamarine
1 Clear Glass Lens

Vintage Hora (Level 45)
1 Fire Crystal
1 Chipped Hora
1 Raptor Leather

Electrum Ring Of Crafting (Level 45)
5 Fire Shard
6 Wind Shard
1 Electrum Ingot
1 Basilisk Whetstone

Amber Choker (Level 45)
5 Fire Shard
6 Wind Shard
2 Electrum Ingot
1 Amber

Red Coral Necklace (Level 45)
5 Fire Shard
6 Wind Shard
1 Woolen Yarn
3 Red Coral
Recipes levels 46 through 50
Rainbow Spoon Lure (Level 46)
5 Fire Shard
6 Wind Shard
1 Cobalt Ingot
1 Blacklip Oyster

Amber Bracelet (Level 47)
5 Fire Shard
6 Wind Shard
1 Electrum Ingot
2 Amber

Spinnerbait (Level 47)
5 Fire Shard
6 Wind Shard
1 Cobalt Ingot
1 Undyed Felt

Electrum Needle (Level 47)
5 Fire Shard
6 Wind Shard
1 Electrum Ingot
1 Basilisk Whetstone

Zircon Choker (Level 47)
5 Fire Shard
6 Wind Shard
2 Electrum Ingot
1 Zircon

Zircon Bracelet (Level 47)
5 Fire Shard
6 Wind Shard
1 Electrum Ingot
2 Zircon

Spinel Choker (Level 47)
5 Fire Shard
6 Wind Shard
2 Electrum Ingot
1 Spinel

Spinel Bracelet (Level 47)
5 Fire Shard
6 Wind Shard
1 Electrum Ingot
2 Spinel

Turquoise Bracelet (Level 47)
5 Fire Shard
6 Wind Shard
1 Electrum Ingot
2 Turquoise

Turquoise Choker (Level 47)
5 Fire Shard
6 Wind Shard
2 Electrum Ingot
1 Turquoise

Amber Ring (Level 47)
5 Fire Shard
6 Wind Shard
1 Electrum Ingot
1 Amber

Tourmaline Bracelet (Level 48)
6 Fire Shard
6 Wind Shard
1 Electrum Ingot
2 Tourmaline

Black Pearl Bracelet (Level 48)
6 Fire Shard
6 Wind Shard
1 Electrum Ingot
2 Black Pearl

Yumizuno (Level 48)
6 Fire Shard
6 Wind Shard
1 Cobalt Ingot
1 Snurble Tufts
1 Blacklip Oyster

Streamer (Level 48)
6 Fire Shard
6 Wind Shard
1 Cobalt Ingot
1 Undyed Felt
1 Chocobo Feather

Black Pearl Choker (Level 48)
6 Fire Shard
6 Wind Shard
2 Electrum Ingot
1 Black Pearl

Tourmaline Choker (Level 48)
6 Fire Shard
6 Wind Shard
2 Electrum Ingot
1 Tourmaline

Rubellite Choker (Level 48)
6 Fire Shard
6 Wind Shard
2 Electrum Ingot
1 Rubellite

Rubellite Bracelet (Level 48)
6 Fire Shard
6 Wind Shard
1 Electrum Ingot
1 Rubellite

Tourmaline Ring (Level 49)
6 Fire Shard
6 Wind Shard
1 Electrum Ingot
1 Tourmaline

Spinel Ring (Level 49)
6 Fire Shard
6 Wind Shard
1 Electrum Ingot
1 Spinel

Rubellite Ring (Level 49)
6 Fire Shard
6 Wind Shard
1 Electrum Ingot
1 Rubellite

Black Pearl Ring (Level 49)
6 Fire Shard
6 Wind Shard
1 Electrum Ingot
1 Black Pearl

Turquoise Ring (Level 49)
6 Fire Shard
6 Wind Shard
1 Electrum Ingot
1 Turquoise

Electrum Ear Cuffs (Level 49)
6 Fire Shard
6 Wind Shard
2 Electrum Ingot
2 Basilisk Whetstone

Tortoiseshell Armillae (Level 49)
6 Fire Shard
6 Wind Shard
3 Adamantoise Shell

Electrum Choker (Level 49)
6 Fire Shard
6 Wind Shard
2 Electrum Ingot
1 Raptor Leather

Jade Scepter (Level 49)
6 Fire Shard
6 Wind Shard
1 Jade
1 Raptor Leather
1 Ogre Horn

Zircon Ring (Level 49)
6 Fire Shard
6 Wind Shard
1 Electrum Ingot
1 Zircon

Gravel Golem (Level 50)
99 Wind Shard
3 Astral Rock

Black Pearl Earrings (Level 50)
6 Fire Shard
6 Wind Shard
1 Electrum Ingot
2 Black Pearl

Tourmaline Earrings (Level 50)
6 Fire Shard
6 Wind Shard
1 Electrum Ingot
2 Tourmaline

Spinel Earrings (Level 50)
6 Fire Shard
6 Wind Shard
1 Electrum Ingot
2 Spinel

Zircon Earrings (Level 50)
6 Fire Shard
6 Wind Shard
1 Electrum Ingot
2 Zircon

Rubellite Earrings (Level 50)
6 Fire Shard
6 Wind Shard
1 Electrum Ingot
2 Rubellite

Amber Earrings (Level 50)
6 Fire Shard
6 Wind Shard
1 Electrum Ingot
2 Amber

Turquoise Earrings (Level 50)
6 Fire Shard
6 Wind Shard
1 Electrum Ingot
2 Turquoise

Model Vanguard (Level 50)
99 Wind Shard
1 Garlean Steel Joint
1 Garlean Steel Plate

Ivory Staff (Level 50)
6 Fire Shard
6 Wind Shard
1 Eye Of Lightning
1 Aldgoat Horn
2 Wolf Fang
1 Spoken Blood
Sanguine Scepter (Level 50)
1 Fire Crystal
2 Wind Crystal
1 Darksteel Nugget
1 Pinprick Pebble
---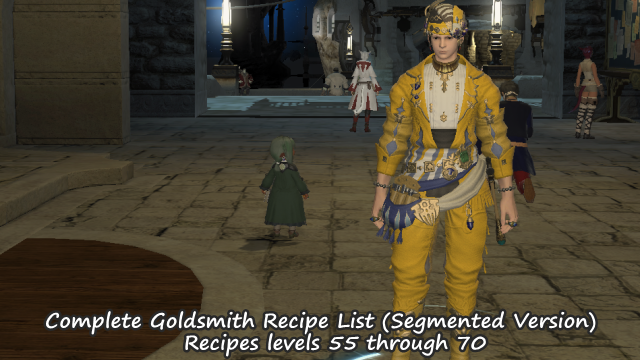 Recipes levels 55 through 70
Rose Gold Nugget (Level 55)
3 Wind Crystal
1 Copper Ore
3 Gold Ore

Astral Eye (Level 55)
3 Wind Crystal
1 Astral Rock

Aetheryte Ring (Level 55)
1 Water Cluster
1 Rose Gold Nugget

Militia Earrings (Level 55)
2 Fire Crystal
3 Wind Crystal
2 Rose Gold Nugget
1 Basilisk Whetstone

Militia Bracelets (Level 55)
2 Fire Crystal
3 Wind Crystal
2 Rose Gold Nugget
1 Basilisk Whetstone

Militia Wristlets (Level 55)
2 Fire Crystal
3 Wind Crystal
3 Rose Gold Nugget

Goldsmith's Turban (Level 55)
2 Fire Crystal
3 Wind Crystal
2 Rose Gold Nugget
1 Rubellite
1 Turquoise
1 Undyed Linen

Imperial Operative Wristlets (Level 55)
2 Fire Crystal
3 Wind Crystal
3 Rose Gold Nugget

Imperial Operative Choker (Level 55)
2 Fire Crystal
3 Wind Crystal
2 Rose Gold Nugget
1 Hippogryph Leather

Alchemist's Monocle (Level 55)
2 Fire Crystal
3 Wind Crystal
1 Darksteel Nugget
1 Rose Gold Nugget
1 Boar Leather
1 Clear Glass Lens

Blacksmith's Goggles (Level 55)
2 Fire Crystal
3 Wind Crystal
1 Darksteel Nugget
1 Hippogryph Leather
1 Undyed Woolen Cloth
1 Clear Glass Lens

Rose Gold Ingot (Level 70)
1 Wind Cluster
2 Rose Gold Nugget
9 Peacock Ore

Radiant Astral Eye (Level 70)
1 Wind Cluster
1 Astral Eye
9 Aqueous Whetstone

Rose Gold Clasps (Level 70)
1 Fire Cluster
1 Wind Cluster
2 Darksteel Nugget
1 Rose Gold Ingot

Astrolabe Clinometer (Level 70)
1 Fire Cluster
1 Wind Cluster
2 Rose Gold Nugget
1 Radiant Astral Eye

Astral Bracelet (Level 70)
1 Fire Cluster
1 Wind Cluster
2 Rose Gold Ingot
1 Basilisk Whetstone

Astral Ring (Level 70)
1 Fire Cluster
1 Wind Cluster
2 Rose Gold Ingot
1 Basilisk Whetstone

Astrolabe (Level 70)
1 Fire Cluster
1 Wind Cluster
2 Darksteel Nugget
1 Rose Gold Nugget
1 Astrolabe Clinometer

Rose Gold Ear Cuffs (Level 70)
1 Fire Cluster
1 Wind Cluster
2 Rose Gold Ingot
1 Basilisk Whetstone

Rose Gold Earrings (Level 70)
1 Fire Cluster
1 Wind Cluster
1 Rose Gold Nugget
1 Darksteel Plate
1 Rose Gold Clasps

Rose Gold Gorget (Level 70)
1 Fire Cluster
1 Wind Cluster
1 Rose Gold Ingot
1 Hard Hippogryph Leather

Rose Gold Circlet (Level 70)
1 Fire Cluster
1 Wind Cluster
1 Legionary Visor
1 Rose Gold Ingot

Astral Choker (Level 70)
1 Fire Cluster
1 Wind Cluster
1 Rose Gold Ingot
1 Hard Hippogryph Leather

Rose Gold Bracelets (Level 70)
1 Fire Cluster
1 Wind Cluster
2 Rose Gold Ingot

Rose Gold Ring (Level 70)
1 Fire Cluster
1 Wind Cluster
2 Rose Gold Ingot
1 Basilisk Whetstone

Rose Gold Ear Screws (Level 70)
1 Fire Cluster
1 Wind Cluster
1 Rose Gold Nugget
1 Darksteel Plate
1 Rose Gold Clasps