Oftentimes, you need items that further heal your character, but there are instances when you might prefer to take damage instead. Here's our guide on the best builds for Atonement Fold in Remnant 2: The Awakened King.
The best items and builds for the Atonement Fold in Remnant 2
The best items and builds that use the Remnant 2 Atonement Fold ring are those that trigger boosts whenever your character takes damage or is suffering from an affliction. But, before we get to other tidbits, let's talk about a couple of gear pieces that make this whole build work.
How to Get the Atonement Fold
The Atonement Fold in Remnant 2: The Awakened King can be purchased from an NPC named Leywise. You'll find him fairly close to the entrance of the Forlorn Coast when you start your DLC run. As you head past the Dran zombies, you'll see a small sewer area to your left. Watch out for the poison-spitting enemies, which I affectionately call "Screebs" because they remind me of exploding mobs from Destiny 2.
In the same sewer area, you'll spot Leywise. Talk to him and check his wares to purchase the Atonement Fold for 500 Scrap. This ring self-inflicts the bleeding status on your character, causing 1.1 bleed damage per second. However, it also increases your crit chance by 10%.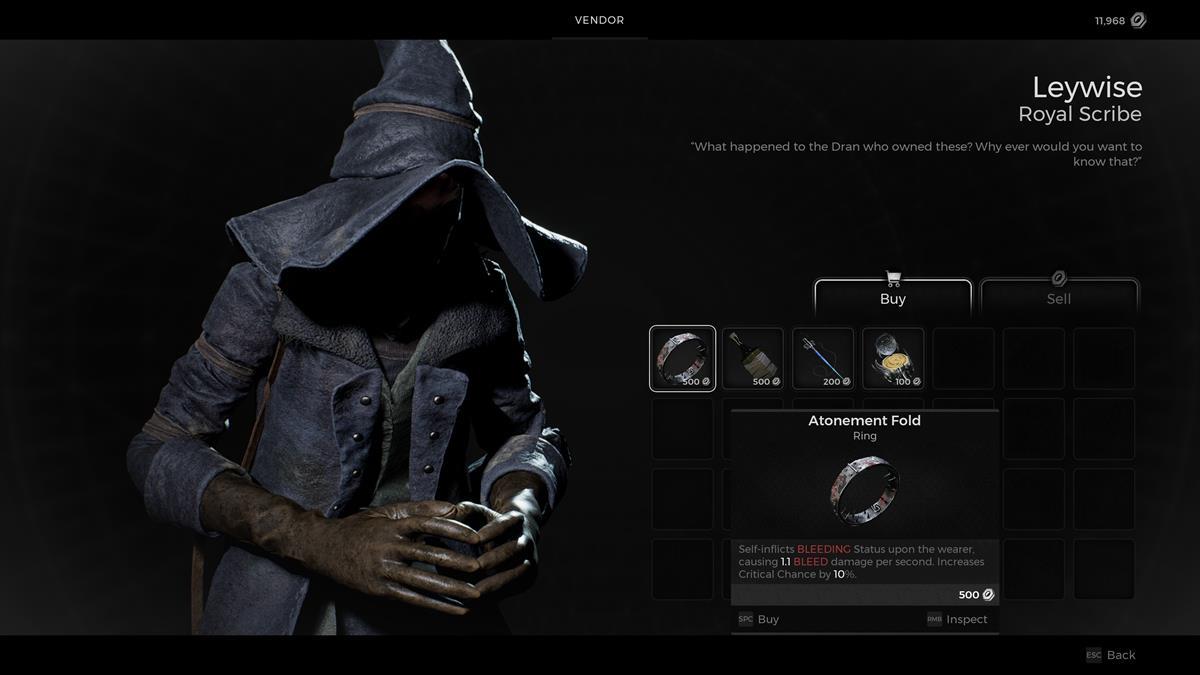 The Blood Tinged Ring and Combining It With the Atonement Fold
You might be wondering why you'll wear an item that constantly damages you? Well, that's because there's another gear piece that nullifies this. The item you need is the Blood Tinged Ring, which comes from The Lament dungeon/puzzle in Yaesha.
The Blood Tinged Ring grants +2 HP regeneration per second as long as you're within two meters of a bleeding entity… including your character.
I suggest having these two rings equipped at all times. I had the Atonement Fold, which caused my character to bleed. Meanwhile, the Blood Tinged Ring's own self-healing meant that I didn't even lose HP. As such, I had 100% uptime on the Atonement Fold's +10% crit chance buff without any hassles.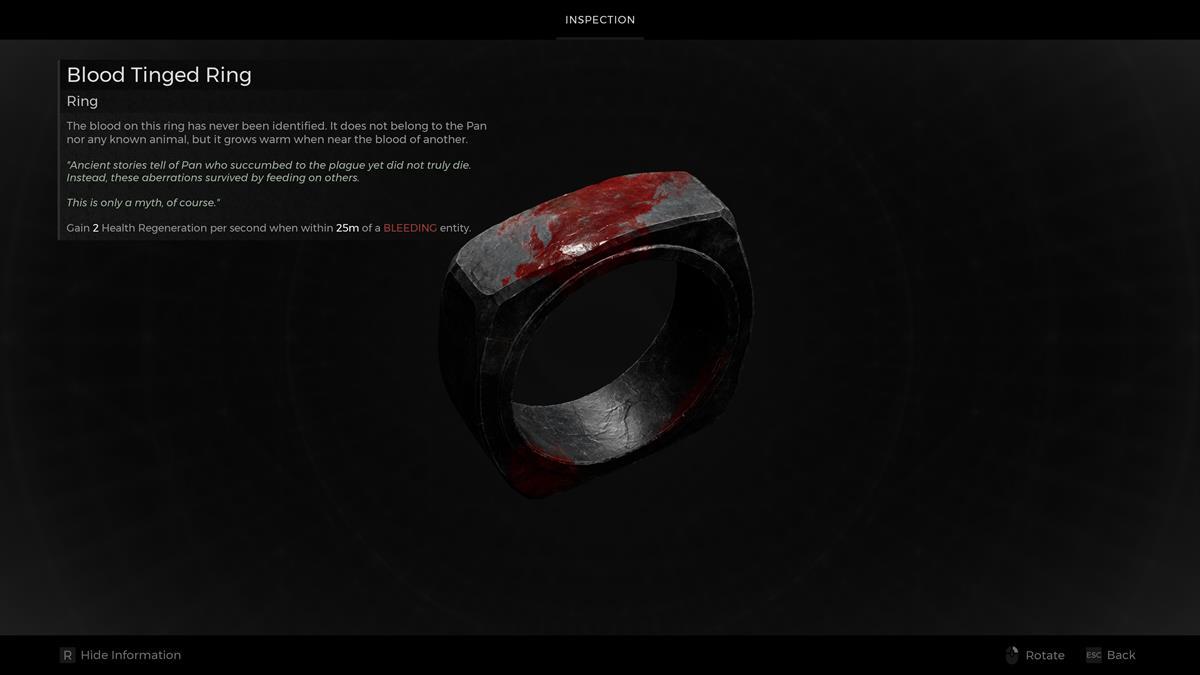 The Best Amulets, Rings, and Weapons to Use in Conjunction With Atonement Fold
From there, I advise you to obtain the following items. These are used in conjunction with the Atonement Fold in Remnant 2: The Awakened King, and they offer powerful boons due to self-damage/self-debuff procs:
Amulet: Neckbone Necklace

Location: Found in Losomn's Great Hall dungeon during the Feast Event.
Effects: Reduces all damage taken from status effects by 50%, and grants 25% increased damage if your character is suffering from a status effect or blight.

Ring: Hardcore Metal Band

Location: Found in the Titan's Reach ship in N'erud. First, make sure you have the Navigator's Helm. Then, try to see if the Titan's Reach ship spawned, as that's where you'll find the Plasma Cutter and Hardcore Metal Band.
Effects: Taking damage adds one stack of bulwark (i.e. damage reduction buff), which individually falls off after 10 seconds; maximum of five stacks.

Ring: Embrace of Sha'hala (optional)

Location: Obtained from the Custodian after you defeat Sha'hala, a potential main boss in N'erud. The boss fight is the conclusion the Seeker Keys main quest. I suggest just going for the regular kill instead of the alternate kill. The latter causes the planet to implode, preventing you from acquiring the ring.
Effects: Gain 5% incoming damage reduction for each negative status effect or blight that your character is suffering from; maximum of four stacks.

Weapon: Wrathbringer

Location: You have to defeat the One True King, the DLC's main boss, while his giant hammer weapon is destroyed. The Tormentor's Pommel material that you get can be exchanged for this melee weapon.
Effect: Incoming damage grants the Awakening buff, which increases melee damage by 5% per stack for 10 seconds; maximum of 10 stacks.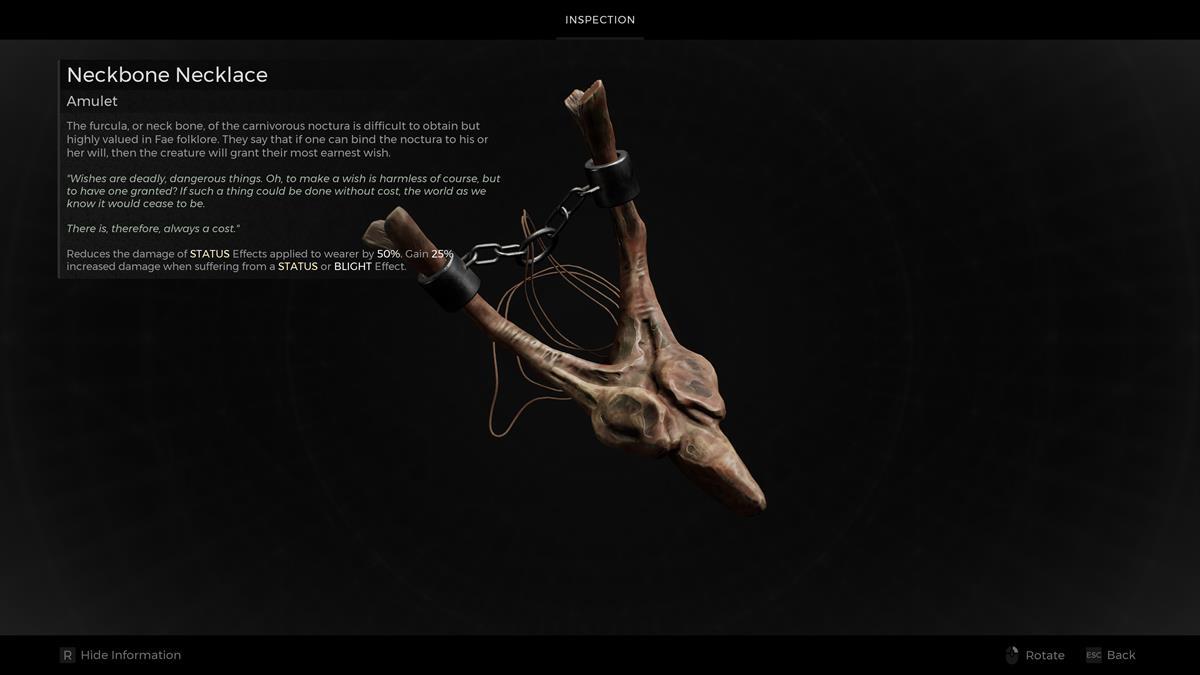 As you can see, there are a lot of items that can truly maximize the use of a single accessory and the self-inflicted bleeding status. With the above options, I was able to utilize several buffs in conjunction with a single equipment, often with 100% uptime and without further causing damage to my character.
In any case, that's everything you need to know about the best items and build for the Atonement Fold in Remnant 2: The Awakened King. Since you're already exploring the DLC's regions, you might want to know how to get new items, such as the Abyssal Hook and Elevated Ring. For more tips and strategies, you can visit our R2 guides hub.
About the author