Each of the new Tall Tales in the Sea of Thieves: A Pirate's Life expansion has a number of challenges called Commendations. Most Commendations unlock normally over the course of play, but a few require you to complete specific actions that may otherwise be out of the way.
In the Captain of the Damned Tall Tale, there are a few such Commendations. This guide will tell you how to get the Strike Your Colours Commendation.
How to Get the Strike Your Colours Commendation
As always you will need to have completed the previous Tall Tales in order to unlock the Captain of the Damned mission. Once you vote on the Tall Tale at an outpost and receive some parting words from the Castaway, make your way into the portal that opens nearby.
You will need to progress through the bayou, which requires you find the Flame of Souls and light some torches and candles. Next progress through the Fort, which is a mix of puzzling, platforming, and a bit of combat.
Eventually, you will arrive at The Raid on Isla Tesoro, a town besieged by Captain Barbossa and his ship. Bring your ship into the dock and head inland.
There are stone steps to the left as you pass the dock. Climb those to see ghostly soldiers exchanging words and cannon fire with Barbossa. This is your destination.
Next to the cannons is a cannonball barrel. Open it to retrieve some ordinance. Grab the nearest cannon, load your shot, and fire.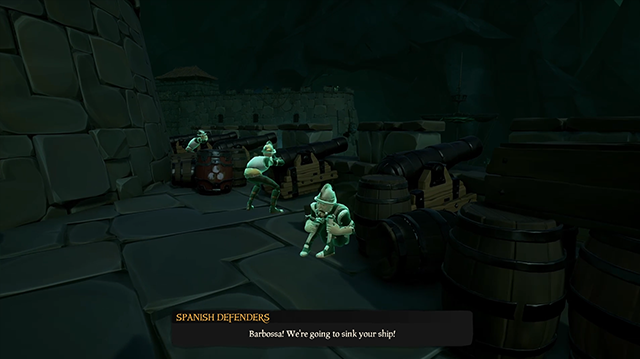 If your aim is true, the ball will strike the ship, and you will be awarded the Commendation.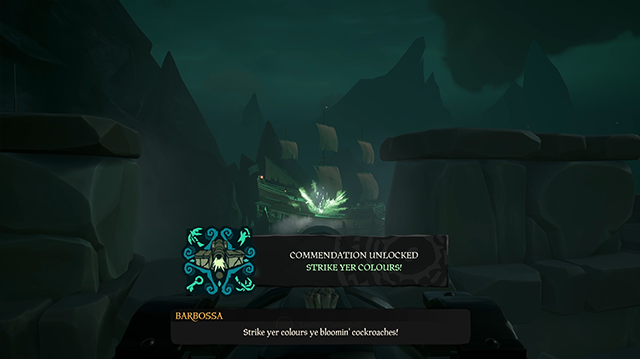 You are welcome to stay and continue firing on Barbossa, but you can't actually damage his ship (we tried). If the commendation was all you needed, feel free to exit out. Otherwise, continue into the town to complete the Captain of the Damned Tall Tale. You can collect the Treasure For Eternity Commendation along the way.
The Sea of Thieves: A Pirate's Life update has plenty more to discover, as you and Jack Sparrow attempt to thwart Davy Jones and save the day.
Check out some of our other Sea of Thieves guides here on GameSkinny:
About the author