These are the Finalists for Most Couture in the Guild Wars 2 Fashion contest!
From fire to ice, flowing to clean cut, these 10 Tyrians represents the extremes of fashion trends in Guild Wars 2.
Check out the entries, and comment to vote for your favorite!
The Most Couture Winner will be announced August 28th along with the rest of our Guild Wars 2 Fashion Contest winners.
Check out all the fashion finalists!
Want to check out the rest of the fashion finalists?
---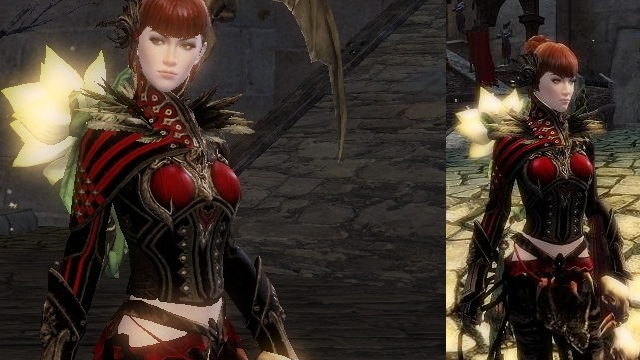 Character: Name Unknown, Evil & Classy

Phoebe Poison wanted to look evil, but keep it classy. She's layered on the look, using belts, corset, shoulder wrap and skulls, while still making it work.
"Following the legacy of GW1 necromancers, leaving colourful bikinis and silly skirts at home, I dressed my character in an outfit that stands out because it's quite original. Having an evil and shamanic vibe (snake themes and poisonous flower) while being more classy rather than mindlessly monstrous.

No more than 2 parts are from the same set. Full sets are for those who can't mix and match!"
---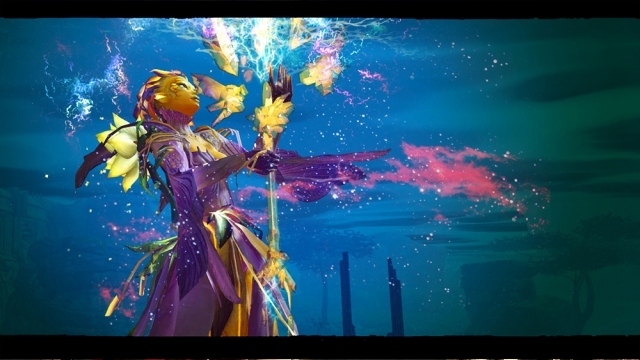 Character: Ny Sha, Sylviari Mesmer

HoneyballLP really caught our eye with this look. Now I'll grant you that a Sylvari wearing Orchid Armor isn't exactly a rare sight, but that color combo is outstanding! She's making purple and yellow look fairytale elegant instead of superhero chic, and that's no small task.
Check out her entry for more wonderful pictures.
"I really love the style of my Sylvari. I tried many colors before, but with the Zenith skins it was clear: She's a perfect purple, golden, glowing Mesmer."
---
Character: Name Unknown, Norn Ranger
If a ranger looks amazing in the middle of a desolate high-altitude forest and no one is around to see her, is she still fabulous?
Of course!
Lamingtons put together a look based on her Wings of Dwayna longbow and hit the mark for high fashion. This Norn Ranger knows that matching your outfit to your purse is so last season; this year all the fashionable Tyrian's are taking inspiration from the most important accessory - their weapon.
"Playing with different sets and mixing them together to try to create something coherent and unique is honestly one of my favourite parts of the game."
---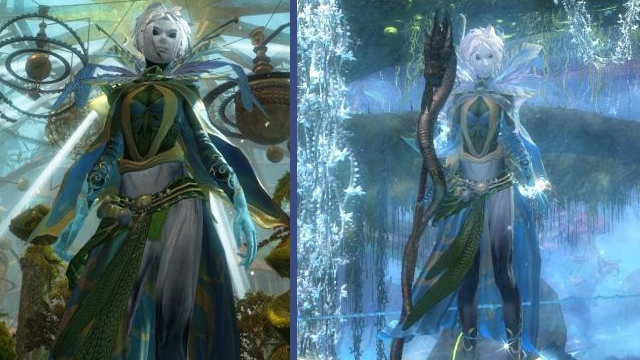 Character: Shuhari Ki, Sylvari Elementalist

Shuhari's look has really grown on us! (Sorry, we won't do it again. Promise.) She put care into crafting an organic look for her newly-wakened Sylvari, and her time spent on gear selection and dye shows.
"Since the Sylvari are grown from and have a very close connection to the land of Tyria (also because they are plants), I knew I wanted a very natural, organic feel to for my outfit. The nightmare set was the first thing that came to mind but wanted to mix and match other pieces to get a more unique look."
---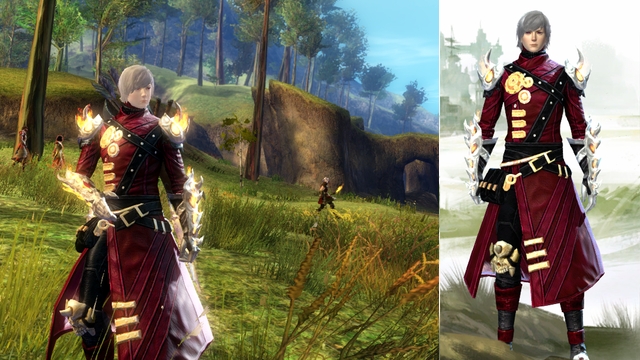 Character: Valahom, Human Vengeance of the Flame

Valahom is one of several gentlemen who stepped in to ensure the ladies didn't lock up this fashion forward category for themselves. With a strong fashion story and a refined use of dye, Valahom shows that vengeance is a dish best served fashionably.
"The flame legion thought that their rituals on using humans as minions was a failure, little did they know. One man survived the torturous experiment and narrowly escaped the citadel. Being the only survivor, Valahom swore vengeance to the flame legion for toying with humans for the achieving their goal."
---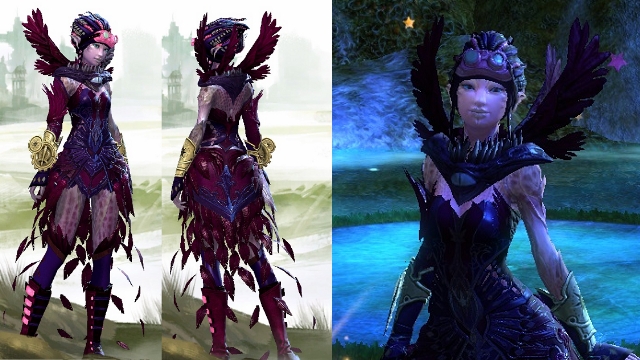 Character: Iyva, Sylvari Elementalist

Iyva's has taken an armor usually noted for it's elegance and toughened it up with steampunk-esq elements. Note the way the 'falling' feathers from the skirt echo the patterns of her Slyvari markings.
"I'm Iyva - I am a Sylvari Elementalist who is quite skilled when it comes to handling air. If you get struck by lighting, that was no accident!"
---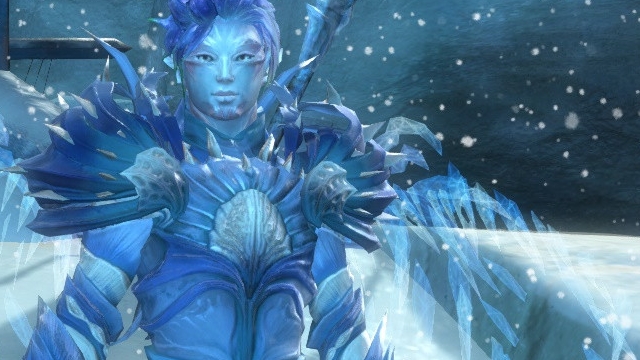 Character: Curin Derwin, Sylvari Guardian

Curin Derwin may be sporting a full set of Nightmare armor, but he's given it an unusual color treatment that compliments his Sylvari coloration and has WvW benefits as well.
"The bitter frost has numbed this guardian from the pains of battle. The blades of his ice cut flesh and armor like a razor. Granting stability and guarding his allies with powerful magic, he remains an insurmountable foe on the battlefield, leaving only his allies to stand the victors."
About the outfit:
"Finding the right dyes for each individual piece was difficult, as they must compliment the Seafoam Green effect that Sky skin has on the armor's unchangable Sylvari skin dye slot. The Brook and Celestial White dyes on the leggings recreate the look of snow and add a fantastic blend that the outfit needed for balance."
---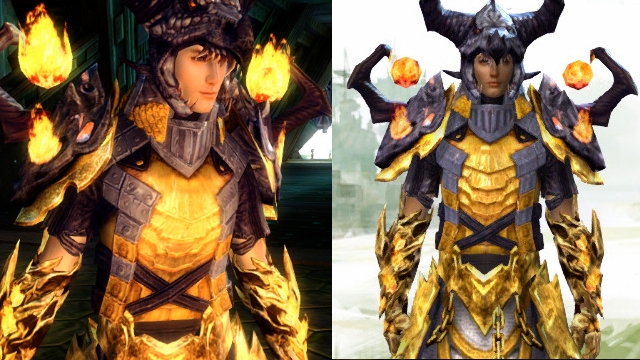 Character: Llend, Father of Dragons

Llend wanted a more substantial look for his scholarly character. He accomplished that, and then some!
"My favorite aspect of this set is the combination of its density and stature; I don't really feel like a vulnerable 'light armored' scholar any more."
---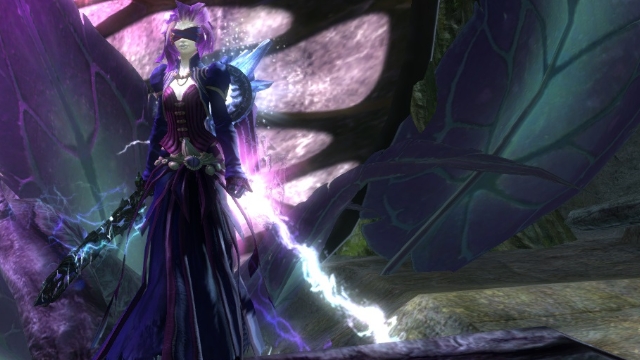 Character: Name Unknown, Sylvari - Maguuma's Royal Princess

Skaazi.8264 mixed several sets to score this formal fashion. The Corrupted Orrian Skirt was a popular armor piece, but we didn't often see it mixed with the Heritage pieces in this way.
And she has definitely stuck to her motto!
"Always be pretty, prim, and purple; that's my motto. Never a day goes by without a stranger complimenting my dress. I blow them a kiss and they blush and swoon."
---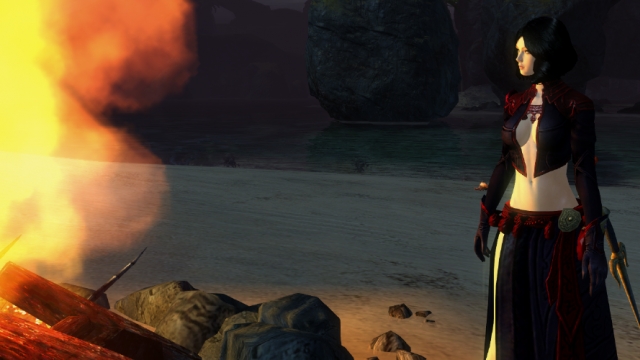 Character: Leopard Lacewing, Order of Whispers

Dream Avenuecrafted an ode to the Order out of a wide variety of sets, but you wouldn't know to look at her; the parts work together so well it has the appearance of a bona fide single set outfit.
Sometimes being fashionable isn't about screaming a new style, it's about whispering it.

"The Order of Whispers philosophies are my personal favourite so I wished to have a set of gear suitable to the order. Instead of the bells and whistles of the light armour, I wanted to find a sleeker look more typical of medium armour sets.

My favourite part of this set is the diversity. Guild Wars 2 armour sets are often distinct in their styles. To be able to mix and match so many sets with such a coherent result makes me proud of this outfit."